Think globally, act globally
Think globally, act globally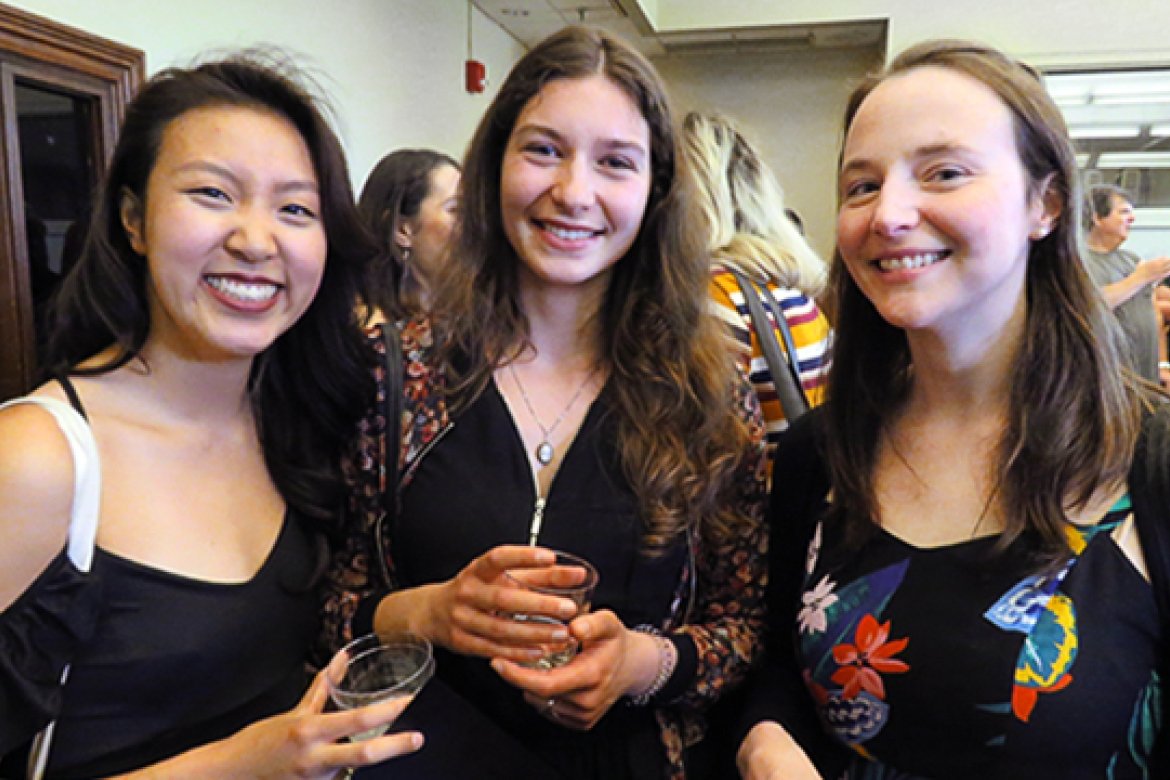 Mount Holyoke demonstrates that global education is essential, as 35 seniors receive an award for the breadth of their international experiences.
Before Ruth Sangree '18, a history and politics double major, came to Mount Holyoke College, she had never been outside of the United States. That changed her first year, when she participated in a January Term internship in the Republic of Georgia, led by Stephen Jones, chair of Russian studies.
That was just the first of many international experiences for Sangree during her college years.
"I have lived in four different countries, learned Korean and completed two international internships, in Vietnam and South Korea," she wrote. "My Mount Holyoke experience has helped me reflect on my place in the world, both as an American citizen and as a historian. I will carry what I learned on the ground into my work, whether it be in foreign affairs or domestic policy."
Sangree wrote these comments as part of her application for the 2018 Global Competence Award from the McCulloch Center for Global Initiatives. She was one of 35 graduating seniors who recently received the award. Their accomplishments demonstrate the College's deep commitment to global education as an essential part of a liberal arts education, said Eva Paus, Carol Hoffmann Collins Director of the McCulloch Center.  
"Global competence is a 21st-century imperative for successful careers and effective engagement for a more just and sustainable world," said Paus.
"The Global Competence Award recipients have challenged themselves to become global citizens, ready to engage in our interdependent, rapidly changing world," she said. "Empathetic, open-minded and astute, these 35 students are poised to become influential global thinkers and leaders of tomorrow."
Representing 27 academic majors and minors, the global-ready graduates demonstrated their global competence by completing advanced language courses, international internships, study abroad programs and courses on global issues and international relations. They participated in internationally-focused opportunities on campus, such as living on language floors in resident halls, as part of the College's Living-Learning Communities.
They also wrote writing essays reflecting on their experience of global education at Mount Holyoke, from which Sangree's comments were taken.
Among the recipients was Rosalyn Leban '18, an English major with a Chinese minor, who interned in Nicaragua at Podcasts For Peace. This community center, cofounded by Mika Kie Weissbuch '11 while on an internship as part of her own undergraduate studies, teaches children and youth to become agents of change in their own lives and for others.  
Driven both in and outside of the classroom by what she called a "passion for language and social justice," Leban wrote, her experience in Latin America was a perfect fit for her degree in English.
"My study of Nicaraguan Spanish complemented my English major by awakening a passion for translation as a means to amplify marginalized voices," she said in her essay.
The College's global focus is meaningful for international students as well. Another recipient, Hoa Nguyen '18, came to Mount Holyoke from Vietnam and studied French and journalism and mass communications.
"I was aware that I would be able to immerse myself in a diverse and culturally rich environment, given that nearly a third of the student body is international," Nguyen wrote. "I have not only learned so much about how different cultures interact with one another but also about how I present myself, my culture, my unique background to the world."
She also noted one of the simplest, most powerful outcomes of Mount Holyoke's globally-focused liberal arts education: "I feel more confident and comfortable to connect with people whose backgrounds differ from my own," she wrote.