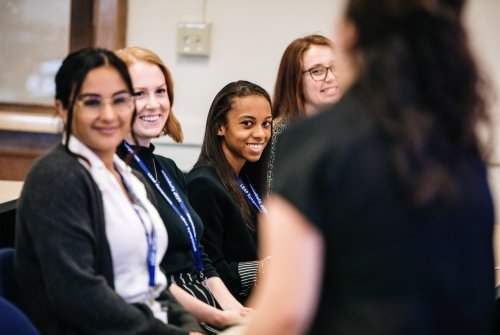 Last updated: April 25, 2023
Rankings: What do they mean to Mount Holyoke?
In 1837, Mary Lyon did the unthinkable. She founded what would become Mount Holyoke College — a liberal arts college for women and the first of the Seven Sisters, the female equivalent of the once predominantly male Ivy League. In the process, she forever changed the educational landscape for women around the world. For nearly two centuries, women have come to Mount Holyoke to develop their intellects and make their voices heard by cultivating the confidence to lead in every field imaginable.
Today, Mount Holyoke continues to be known for its academic rigor, diverse and global student body, and curricular innovation that includes connecting internship opportunities and career preparation to an academically rigorous liberal arts education. As a result, others take notice. Mount Holyoke has long been named one of the top colleges in the nation — and we are committed to our academic excellence.
Mount Holyoke College is consistently cited among the top liberal arts colleges in the world across a range of categories: strong academics, outstanding faculty and student research, high graduation and retention rates, our historic and stunningly beautiful campus, and access and affordability for students from all backgrounds. We remain focused on these mission-critical priorities to ensure that the bold legacy of Mary Lyon lives on for generations to come.
Recent rankings
There are many college ranking and rating scales available as resources for prospective students, their families, students, alums and community members. Each ranking is unique in the criteria utilized, the way data are collected, and the number and types of institutions measured. This list provides a sampling of some of the most widely recognized rankings and where Mount Holyoke fits in their most recent ratings.
What it measures: reputation, resources, and selectivity (full methodology)
Mount Holyoke rank: #34 among National Liberal Arts Colleges.
Other Mount Holyoke ranks: Mount Holyoke College also was recognized in a number of additional U.S. News & World Report rankings, including being named #37 in Best Value Schools, #62 in Top Performers on Social Mobility, and #80 in Economics.
The U.S. News & World Report rankings have been around the longest (more than three decades) and collect information directly from colleges and universities, rather than relying on data from outside sources. The rankings evaluate colleges and universities on 17 measures of academic quality. These measures are grouped into the following indicators: outcomes, expert opinion, faculty resources, financial resources and student excellence. 
What it measures: student experience, sustainability (full methodology)
National Top Twenty Lists for Mount Holyoke: #2 Most Politically Active Students, #4 Best College Library, #6 Professors Get High Marks, #6 Top 20 Best Schools for Making an Impact (Private Schools), #7 Most Beautiful Campus, #9 Most Active Student Government, #10 Best College Newspaper, #10 Top 20 Best Alumni Networks (Private Schools), #13 Best College Radio Station, and #14 Best College Dorms.
Other Mount Holyoke ratings: included in "The Best 389 Colleges," "Best Northeastern Colleges," and "Best Value Colleges" lists.
This ranking has been around for more than two decades. The Princeton Review's The Best 389 Colleges consistently recognizes Mount Holyoke College. The Princeton Review does not rank by number, but rather names institutions based on student surveys and data that are collected directly from the institution. Inclusion in The Princeton Review is based on exceptional academics, financial aid, student life, sustainability and other factors. In addition to the "best colleges" list, The Princeton Review publishes annual lists of the top 20 schools in a large variety of student-experience measures.
What it measures: social mobility, public service (full methodology)
Mount Holyoke rank: #16 of 199 Liberal Arts Colleges.
Additional Rankings: #80 of 388 in the "Best Bang for the Buck: Northeast" rank.
The Washington Monthly collects data from external sources and gives equal weight to "social mobility, research, and community service, based on factors including the amount of financial aid awarded, graduation rates, and resources allocated for research."
What it measures: best values (full methodology)
Mount Holyoke rank: 30 among liberal arts colleges.
Other Mount Holyoke ranks: 53 overall among all colleges and universities.
Kiplinger ratings are based on an institution's commitment to financial aid, low overall student debt upon graduation, graduation rates, and low student-to-faculty ratios. Kiplinger collects data from external sources first and then verifies them directly with colleges and universities.
What it measures: resources, engagement, outcomes, environment (full methodology)
Mount Holyoke rank: 16 among all U.S. Liberal Arts Colleges, 55 overall among all U.S. colleges in 2022.
The Times Higher Education U.S. College Ranking examines a range of issues related to four key areas: resources (e.g., finances per student and faculty, research papers by faculty), engagement (e.g., student engagement, interaction with teachers), outcomes (e.g., graduation rate and academic reputation), and environment (e.g., diversity and inclusion).
What it measures: best education value, student experience, and quality of life
National List for Mount Holyoke: One of 20 schools selected for the "Best Buy" designation from more than 320 U.S. colleges and universities in 2020. It is the only women's college to qualify for the list.
The Fiske Guide to Colleges is the creation of a former New York Times education editor, Edward B. Fiske. He began the publication to give college-bound students and their families sound information on which to base their educational choices. The guide is now in its 36th year. The Fiske Guide to Colleges does not rank by number. The "Best Buy" designation is given to those schools that, according to the editors, offer "outstanding educational value as determined by academic quality in relation to the net cost of attendance."
Happening at Mount Holyoke
Our recent awards and honors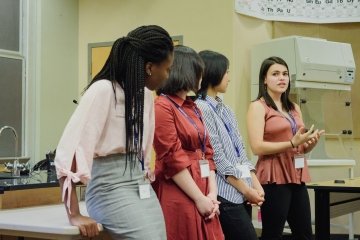 Mount Holyoke College has been ranked highly by U.S. News & World Report, Washington Monthly and The New York Times.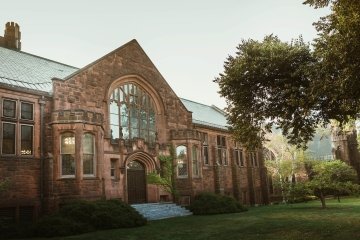 The Princeton Review ranked Mount Holyoke College in the top 20 colleges and universities in the country in categories for academics, extracurricular activities and alum resources.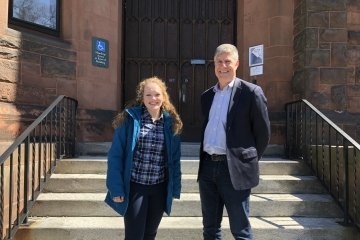 Mount Holyoke sophomore Gracie Wilkinson, a chemistry major and environmental studies minor from Amherst, Massachusetts, has been named the recipient of this year's Western Massachusetts Scholarship Fund.