Jointly produced by the Departments of Music and Film, Media, Theater, operas are performed by Mount Holyoke College and Five College students of Olabode Omojola's African Opera in Performance and Practice class.
In African Opera in Performance and Practice (MUSIC-228), African opera provides the framework for exploring salient features of African music, including ensemble practice, the role of dance, and musical storytelling, culminating in a public performance of an African opera. These operas are noted for their use of African mythology and performance practices, featuring song, chant, dance, and drumming, while utilizing the resources of the Western theatre. Olabode Omojola, who directs the series, explains that the operas provide a unique context for students to gain a firsthand experience of African music through performance and by working with distinguished African professional musicians.
Happening at Mount Holyoke
Stories about the operas
History of African Opera
The origins of this musico-dramatic genre extend as far back as the 17th century, when the Alaafin, king of the ancient Yoruba kingdom of Oyo in Western Nigeria, declared that the egungun (masquerade) performance, hitherto performed as part of religious rituals, should henceforth also be performed as royal entertainment. It soon became accessible to the general public and was subsequently referred to as alarinjo (walking dancers), because of the itinerant nature of the performers. The alarinjo, like most African performances, is operatic in nature, consisting of singing, comical narratives, dance and magical displays done to the accompaniment of bata drumming. It would later provide an important model for the Yoruba traveling theatre of the 1940s of which the opera tradition was a major part.
Happening on campus
The African Opera Series in the news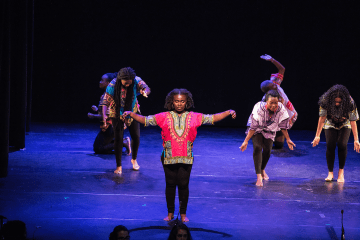 The latest production in Mount Holyoke's African opera series will debut on campus in April.
Contact us
The Music Department offers a program exploring the history, theory, literature, performance and cross-cultural study of music.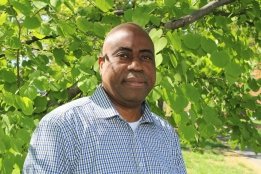 Hammond-Douglass Five College Professor of Music