Launching Leadership: Addison Beaux '99
Launching Leadership: Addison Beaux '99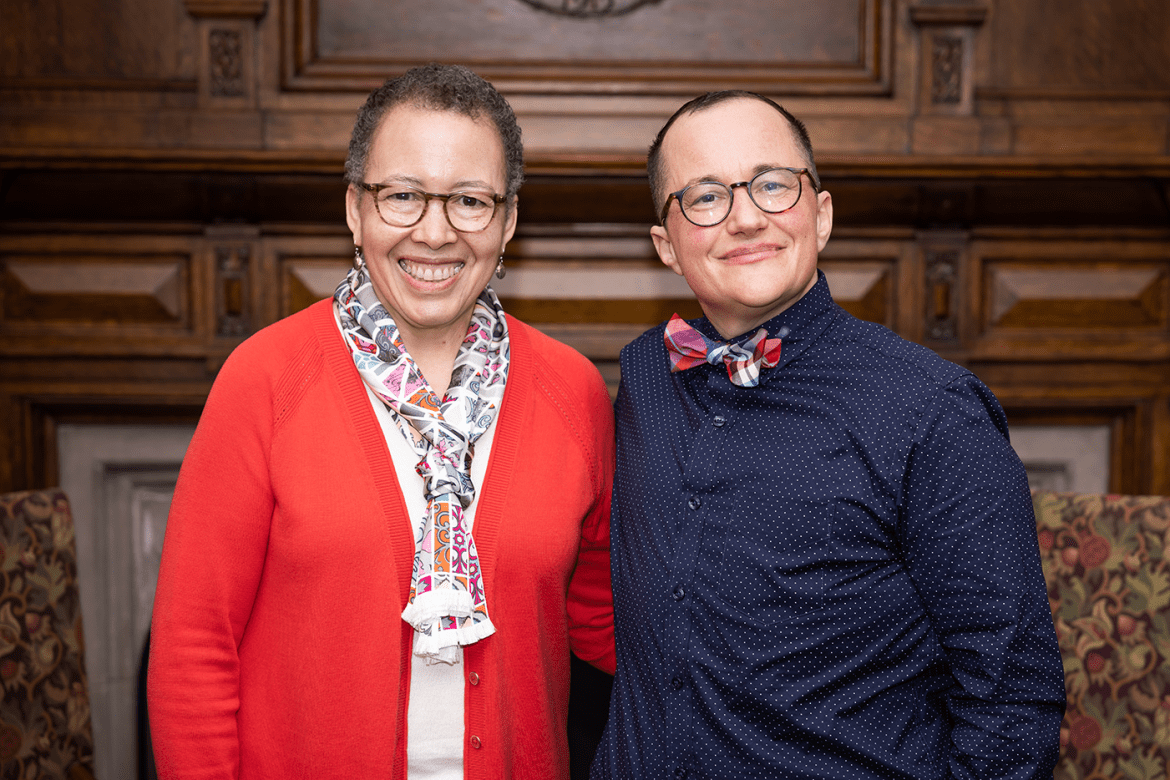 The final Launching Leadership conversation for 2022 was with Addison Beaux '99, the founder and CEO of Beaux & Arrow. The wide-ranging conversation touched on student activism, gender affirmations and self-love.
The final Launching Leadership conversation for the fall 2022 semester was with Addison Beaux '99, the founder and CEO of Beaux & Arrow, a coaching and consulting company. The wide-ranging discussion with Interim President Beverly Daniel Tatum touched on his journey from being a student activist that helped to establish the Jeannette Marks Cultural Center for LGBTQ students to living his authentic and embodied truth as a leader in communications and strategy.
"Mount Holyoke is the next biggest influence on my life," besides his parents, Beaux said. "This is where all aspects of my identity came together. … My experience here was one of the most profound blessings of my life." 
As a student, Beaux took two classes with then-faculty member Beverly Daniel Tatum. "You were such a powerful influence in my life," he said. He was also one of the first Speaking, Arguing and Writing mentors at the Weissman Center for Leadership.
Also during his time at Mount Holyoke, Beaux was involved in a 1997 protest and takeover of Mary Lyon Hall that ultimately culminated in the creation of two cultural centers: the Asian Center for Empowerment and the Jeannette Marks Cultural Center.
"I feel very fortunate that I had the opportunity to do that activist work," Beaux said. "There were more than 400 students who were part of this uprising. I feel very proud of us. It was really painful work — it was really hard."
Beaux reflected on himself at that time: "There were things I had to learn. I was really angry. The word that I had to learn was 'grace,'" he said. "I have such a passion for justice, and some of that passion came from earlier moments in my life that had nothing to do in the moment. I had to do the healing work. That was very humbling for me to learn."
After Mount Holyoke, Beaux earned his M.A. in counseling psychology from Prescott College. He spent time as a staffer for Congresswoman Gabrielle Giffords, a congressional liaison and speechwriter at the Consumer Financial Protection Bureau and a lead researcher at the Center for Economic Integrity.
He is also a graduate of the Coro Fellows Program in Public Affairs at Columbia University and the Stanford Graduate School of Business' Executive Leadership Program. While at Stanford, he learned from someone in his graduate cohort about a position opening as speechwriter for its president and board of trustees.
At that point, Beaux was at a crossroads. "I had been contemplating my gender my whole life," he said. "I knew myself to be male. It was the time to transition, to affirm my gender."
He applied for the speechwriter position before his transition but accepted the job as Addison Beaux.
"That was really my first year of being myself," Beaux said. "I felt a peace that I had never known before."
After some time working at Stanford, Beaux decided to make the leap into working for himself. "I never thought I'd have the confidence to leave a job without another job," he said. "Affirming my gender gave me the confidence to do anything."
"There's lots of ways to be bold," Beaux told the students in attendance. "Love yourself. Love yourself fiercely. When we love ourselves, it's a lot easier to love and understand others."