Speaking, Arguing and Writing Program produces leaders
Speaking, Arguing and Writing Program produces leaders
The Speaking, Arguing and Writing (SAW) Program is a critical component of the Weissman Center for Leadership at Mount Holyoke College.
Changing the world begins with sharpening one's voice, strengthening one's position and enhancing one's powers of persuasion. Through its Speaking, Arguing and Writing (SAW) Program, Mount Holyoke College equips students with the twenty-first century skills — including the ability to communicate effectively across a range of mediums — necessary to examine and engage with complex global issues. This flagship program, a critical component of the Weissman Center for Leadership, helps students hone their skills in crafting and conveying clear and compelling arguments.
"Speaking, arguing and writing are fundamental processes of communication," said Mark Shea, the faculty director of the SAW Program, senior lecturer in the Department of English and coordinator of the English for Speakers of Other Languages Program. "To communicate effectively, we need a clear sense of our own position, and we need to be aware of our audience — how they will receive our message, what they already know, what else they need. This combination of self-knowledge and consideration for others is an essential part of being a leader."
The SAW Program's mission is to empower students to become leaders who are adept at thinking critically and creatively and to influence change by communicating persuasively. Mount Holyoke has many classes that focus on the acquisition of finely tuned speaking, arguing and writing skills. Select courses feature dedicated SAW mentors who work with students throughout the semester.
The SAW Program uses a peer-learning model that features highly trained student mentors who are available to meet for collaborative one-on-one sessions to support students in developing essays, oral presentations and more.
"The peer-mentoring relationship has an extraordinary effect on the academic and personal development of both mentors and mentees," said Shea. "Good mentors reflect on their academic and communication practices in order to help mentees develop their own set of strategies and approaches. And mentees have the opportunity to get assistance on specific class assignments while also benefiting from a mentoring relationship with a more experienced student. So many of our current mentors applied to the program because of an inspiring experience with a SAW mentor in their first year here."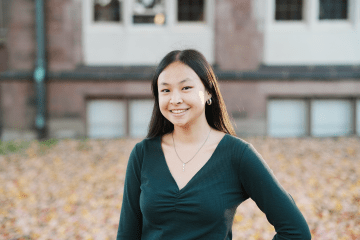 That extra support can help students overcome academic anxiety as they transition into college. For Nina Fulmer '24, a psychology major from Allentown, New Jersey, the SAW Program pushed her outside of her comfort zone, giving her the exposure and experience to have more faith in her own abilities.
"I tend to be on the quieter side, but SAW has helped me feel comfortable and like I belong in a leadership position," said Fulmer. After connecting with a SAW mentor during her first-year seminar, Fulmer was encouraged by a professor to become a mentor herself. "I decided I wanted to be a part of the SAW Program and carry on that legacy of helping students."
In addition to benefiting from in-course mentors, all students have access to the SAW Center, a learning area located on the main level of Dwight Hall in the Mediated Educational Work Space (MEWS). The SAW Center serves more than 700 students a year from all class years, language backgrounds and abilities.
"Mentees come to the center for a range of assignments and projects from all disciplines," said Kimberly Jeffers, associate director of the SAW Program.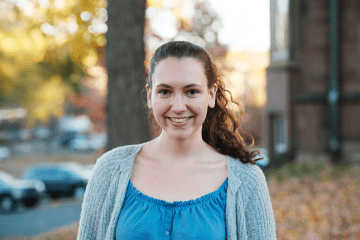 "Through SAW I have gotten to work with people across almost every department on campus," said Rebecca Kilroy '23 of Basking Ridge, New Jersey, an English and Spanish double major who mentors students taking Spanish courses and specializes in creative writing as editor-in-chief of the Mount Holyoke Review. "My first ever appointment was with someone working on a senior thesis in neuroscience! I have learned a lot about writing styles in different disciplines and also about the various ways people approach assignments. My favorite sessions are when the mentee wants to brainstorm and we spend the time bouncing ideas back and forth. I have had really meaningful discussions come out of that, and it gives me a chance to see how other people's ideas form."
"Mentors are initially trained through a pre-service course which covers the theory and practice of peer mentoring and academic language," said Jeffers. "That course also has a practicum component through which preservice mentors have the opportunity to lead authentic mentoring sessions while being observed by an experienced mentor — so even in our training, our staff engages in the peer-mentoring process. Once they are working in the program, mentors complete a number of in-service training hours which focus on a range of topics, including specific academic and professional genres, accessibility and antiracism, wellness and professional practice."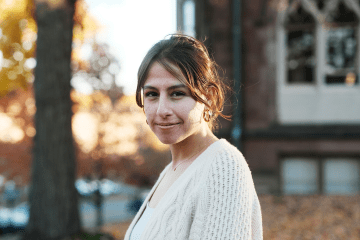 "Working as a SAW mentor has motivated me to become an even better student," said Alena Isa '23, a geography and French double major from Holyoke, Massachusetts. "It has encouraged me to think critically and analyze the content of my classes. I also have come to realize that being a strong writer is one of the most important academic skills that someone can have — not only within the humanities. Crafting a written piece in a clear, comprehensive, organized and persuasive way implies that the author has abilities that are transferable within any academic context."
Harriet Levine Weissman '58 cites Mount Holyoke's emphasis on cultivating speaking and writing skills as being very important to her own growth as a student and throughout her work in art and education. When she and her husband established the Weissman Center for Leadership in 1999, the SAW Program became one of its core programs.
"Speaking and writing have so many applications: grad school, getting a job, volunteer work," said Weissman. "It makes all the difference in how you present yourself. I have seen so much confidence built up in the student body with the implementation of these disciplines into the curriculum. I was able to hear young women give their senior presentations at the College and was thrilled beyond words to see the confidence with which they presented themselves."
Weismann recalls her own journey from being frightened of speaking in front of an audience to eventually loving it and giving presentations across the country. "But it was not immediate. They say practice makes perfect. And that's what happens at Mount Holyoke: a chance to practice. It has given me great joy to be part of an initiative to help young women realize their dreams, armed with the discipline to coherently express themselves through speaking and writing."
For writing assignments, mentors can provide guidance and feedback on areas such as thesis development, use of evidence, organization, flow, sentence structure and grammar. The SAW Center also includes a dedicated room for practicing and refining oral presentations, on-camera appearances and other speaking engagements. Students benefit from access to the resources of MEWS, which offers multimedia equipment as well as instruction in audio and video production.
The SAW Center is open six days a week during the academic year. To meet with a mentor, students can book an appointment online or stop by during drop-in hours. The center also offers specialized series. The Discussion Practice Group helps students gain the confidence to speak up in the classroom and other settings through weekly drop-in workshops in Blanchard Hall that run on Sundays from 3 to 5 pm, October 16 to December 4, 2022. The practice group is especially useful for nonnative speakers of English. For seniors working on a thesis, there is also the Thesis Writing Circle that meets throughout the semester on Fridays from 1 to 3 pm in Blanchard 209.