Launching Leadership: Kira Banks '00 and Charisse Pickron '08
Launching Leadership: Kira Banks '00 and Charisse Pickron '08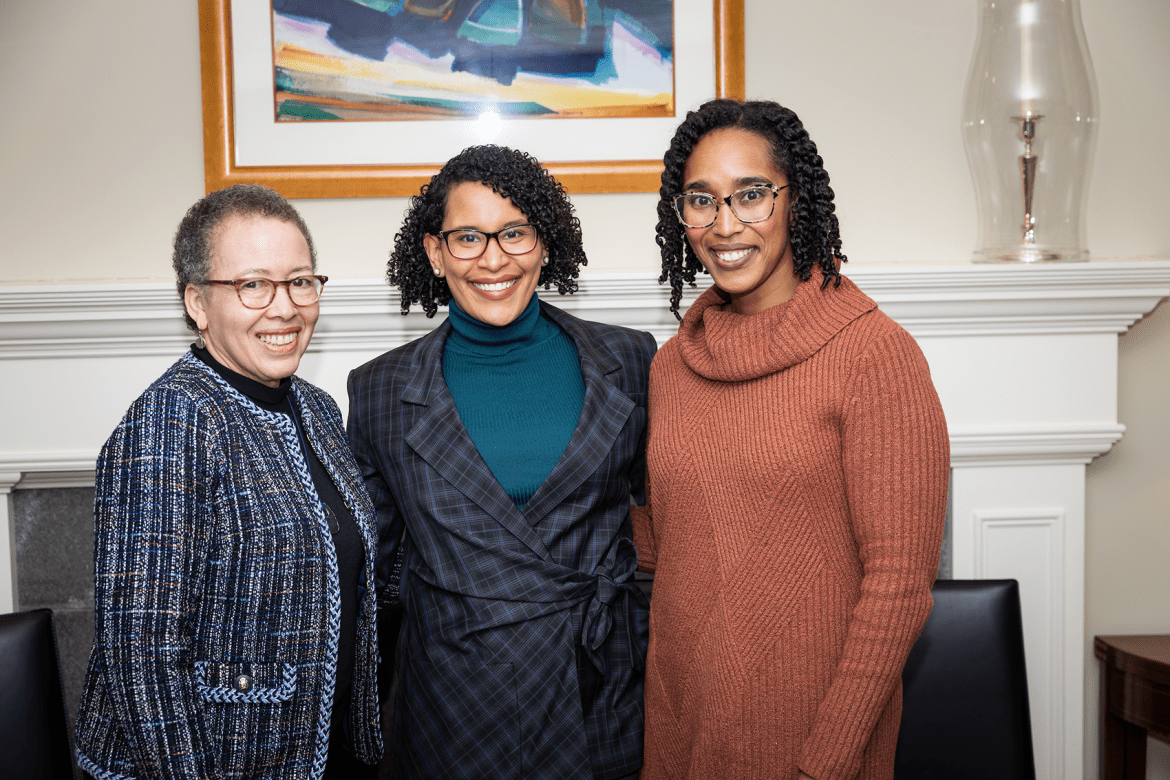 Mount Holyoke alums Kira Banks '00 and Charisse Pickron '08 are researching race's and racism's impact on young children. During a recent visit to campus, they spoke about transformational faculty, stepping into who you are and being true to yourself.
The philosopher Aristotle is famed for penning, "Give me a child until he is 7 and I will show you the man." Alums Kira Banks '00 and Charisse Pickron '08 are both using their Mount Holyoke education to research race's and racism's impact on young children.
They spoke to Interim President Beverly Daniel Tatum on February 22 for a Launching Leadership conversation that quickly focused on transformational faculty, stepping into who you are and being true to yourself.
Kira Banks '00 is co-founder of the Institute for Healing Justice and Equity at Saint Louis University, where she is a professor in the Department of Psychology. She also served as a racial equity consultant for the Ferguson Commission and continued as the Racial Equity Catalyst for Forward Through Ferguson. Her research, teaching and facilitation around equity, diversity and inclusion have helped frame racial equity in the Saint Louis region and beyond.
Charisse Pickron '08 is an assistant professor at the Institute of Child Development, University of Minnesota Twin Cities. As the director of the Child Brain and Perception Lab, Pickron, along with her team, examines the ways in which social experiences shape how infants and children perceive and represent people in their environment. The team's goal is to better understand the way early experiences influence face perception and how young children begin to respond to and understand social constructs such as gender and race.
Both were psychology and education majors at Mount Holyoke College and took classes with Tatum. Banks and Pickron cited Mount Holyoke faculty as a major influence in their lives.
"You gave me language for my experiences," Banks said to Tatum. "I was watching you as you were writing 'Why Are All the Black Kids Sitting Together in the Cafeteria?'"
Pickron remembered an early conversation in her Mount Holyoke career with Lucas Wilson, professor of Africana studies and economics. "It was my first year at Mount Holyoke," she recalled. "He was very excited about the way I was writing. He said, 'I want a student like you to teach at Mount Holyoke!' And I thought, Nooooo. But that stayed with me! Since 2004 it has stayed with me!"
"I always joked when I was at Mount Holyoke that there's something in the water here — in a good way. It fed an intellectual curiosity in me that I didn't know needed validating. It showed me that I was enough. I'm still fine-tuning it, but it allowed me to step into who I am and not be apologetic. The liberal arts education gave me the foundation of who I am."
Banks' research helps individuals navigate discrimination — specifically Black Americans. Her work explores how psychological theories and practices can buffer individuals from the negative effects of discrimination and systems of oppression. She has also been taking her work into the public square. She's launched a podcast, "Raising Equity," which she dubs "the Olivia Pope side" of her work.
She has also been advising Hollywood studios on how to address equity and inclusion on both sides of the camera.
"It's been fun to see how Hollywood thinks they're doing things right by adding a token character," she said.
Pickron focuses her research on infants and small children. "I do baby science!" she laughed. She studies how "tiny little humans" pick up bias and prejudice. "I show parents what their little ones know," she said. "Their decisions and actions have long-term impacts."
For instance, Pickron explained, babies have to make quick decisions about faces. "We see a face, and there's going to be a millisecond to make a decision. We're able to do that because of a lifetime of experience. By nine months of age, infants are already becoming really good at recognizing faces — that level of recognition, at nine months, is equal to what adults do." And if infants aren't used to seeing faces from other races and backgrounds, that can lay the groundwork for bias.
"I use your research to help people understand that race does matter," Banks said to Pickron. "You can't just say, 'I just see the individual!'"
Interim President Tatum asked the two alums what they thought it meant to be "authentically bold."
Banks said, "I always joked when I was at Mount Holyoke that there's something in the water here — in a good way. It fed an intellectual curiosity in me that I didn't know needed validating. It showed me that I was enough. I'm still fine-tuning it, but it allowed me to step into who I am and not be apologetic. The liberal arts education gave me the foundation of who I am."
"At Mount Holyoke we do hard things, and I was able to do them in a way that was true to myself," said Pickron. "I was really challenged in a space where I could be myself."
"I am [often] in spaces where I'm the only one," she continued, whether she is the only Black person, the only woman or the only Black woman. "Being at Mount Holyoke College, I would see it, but it didn't hurt me. I could see what was going on, but I kept going."