LEAP Symposium showcases internships' variety and depth
LEAP Symposium showcases internships' variety and depth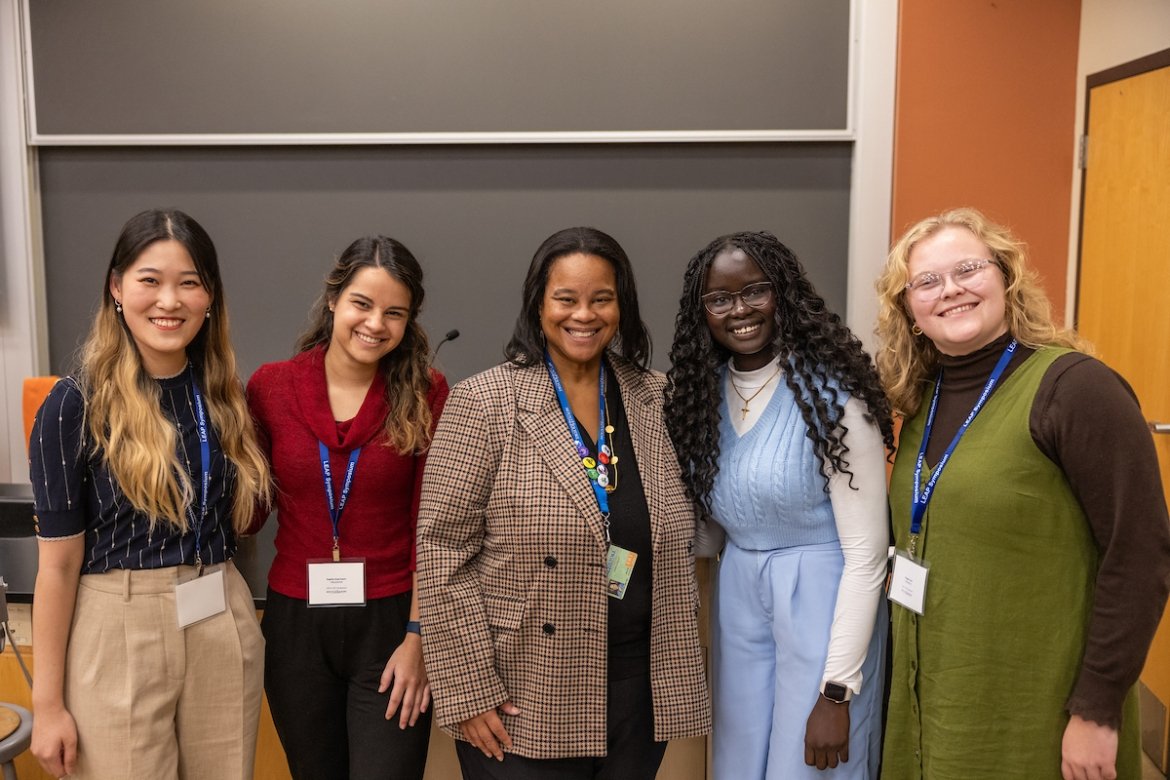 Mount Holyoke's annual LEAP Symposium is a powerful vehicle that demonstrates the strong connections between academic work at the College and its practical application in the world in internships and research experiences.
Anticipation was in the air just before noon on Friday, October 20, in the Kendade Atrium as students, parents, alums, faculty and staff milled about, chatting, sipping coffee and enjoying cider donuts.
Many students wore lanyards indicating that they were among the 140 presenters at the LEAP Symposium, which featured a dizzying array of topics, from exploration in the Galapagos Islands to film production and distribution to Alzheimer's research to the intersection of art, history and community.
A student introduced her parents to Eleanor Townsley, Andrew W. Mellon Professor of Sociology and Director of the Nexus Curriculum to Career Program. Kimberly Kedziorek, parent to first-year student Kate Markowski '27, also introduced herself to Townsley, thanking her for encouraging students to attend the symposium. Thrilled to be on campus for her first Family and Friends Weekend, Kedziorek encouraged Kate to check out the student panels, but it wasn't until Townsley suggested it, she noticed, that her daughter "really perked up."
Kedziorek is not only a Mount Holyoke parent; she's an alum from the class of 1998 and an employee in the Development Office. She knows a thing or two about getting the most out of one's education.
"A lot of the presentations are geared toward first-year students, and they can instill a level of confidence that they can do this too," said Kedziorek. "They can start thinking about their own internship experience."
Kim Sawyer-Wheeler FP'25 offered brief welcoming remarks before sending the crowds off to the various classrooms and auditoriums in the complex.
"LEAP is put on by the students for the students," said Sawyer-Wheeler, a biology major and English minor. "This helps prepare us for our future after graduation."
Sawyer-Wheeler would soon be taking part in a four-person panel titled "What Do Lab Rats, Sea Turtles and Water Salinity Have in Common?" She described the hours she spent in the ocean wearing a GoPro action camera to photograph sea turtles in the Galapagos Islands.
"It was a dream come true for me in that I learned proper field research techniques," she said. As for her daily stints in the ocean, she said, "I forgot how much of a fish I actually am!" 
Sawyer-Wheeler, 42, a Frances Perkins Scholar, has a career as a chemist and quality control technician for a biomedical company in Lee, Massachusetts, but once she graduates from Mount Holyoke, she hopes to work as a microbiologist.
The LEAP Symposium, she said, offers "a great platform for students to showcase what they did, and it brings you into contact with other students you might not necessarily come into contact with." Her own panel, she noted, was made up of two biology majors and two psychology majors.
Bringing students from different disciplines together to create themed panels is one of the goals of Townsley's six-week College 211 course, where they are expected to think deeply about their internship experiences, collaborate with other students and synthesize their learning to come up with panels of interest to a general audience. They are even required to interview first-year students to find out what it is they'd like to learn at the LEAP Symposium.
"By the time we get them to LEAP, they are putting out their best work," said Townsley. "I hope students feel recognized and celebrated for the work they've done, and I hope they see the College's utmost respect for the work they do."
Moderators are selected and invited by students to facilitate each student panel, often a member of the faculty or staff. Mount Holyoke President Danielle R. Holley served as moderator for a panel titled "Social Justice through Different Lenses."
"I'm honored to be here to moderate this outstanding LEAP panel," said Holley, welcoming a crowd of about 40 onlookers to the classroom Cleveland L2. "I'm thrilled to be able to witness the impact our students are having on the world outside our gates."
Chemistry major Maggie Coen '25 described with great excitement her internship at Clean Ocean Access in Rhode Island, a nonprofit dedicated to protecting the ocean.
"I had the coolest title in the world as 'the ocean intern,'" she said, drawing laughter from the audience.
The work she actually did had great variety to it, including data analysis, water quality testing and keeping an eye on a weather station with 15 different monitors.
"It was super fun," she said. "I also got to bring a big net into the ocean."
Other panelists included Sophia Hoermann '25, who worked with a law firm on immigration law; Yihan Zhang '25, who helped run a summer law institute to prepare underserved students in New York City for professional careers; and Achol Otto '24, who discussed her two summer internships at Water is Basic and the African Collaborative Network, where she participated in a youth conference for immigrants and helped plan an African cultural festival.
After their presentations, students in the audience peppered panelists with questions about how to find a meaningful internship and then succeed in it.
Coen said she sought help from the Career Development Center. "I brought my résumé there, and they ripped it to shreds," she confessed. "I think that really helped my application."
Panelists encouraged students to apply for Mount Holyoke's Lynk funding to support their summer internships, which, they noted, might make them more attractive candidates for internships since they wouldn't be looking to be paid.
Even still, said Otto, it can be intimidating making cold calls to potential internships. She noted that one place where she inquired actually laughed at her. But she persevered. "Please don't let the frustration and stress get to you," she said. "Just keep going."
And that lesson from a summer internship seems an apt lesson for life.