MHC's Wonder-full first-year seminars
MHC's Wonder-full first-year seminars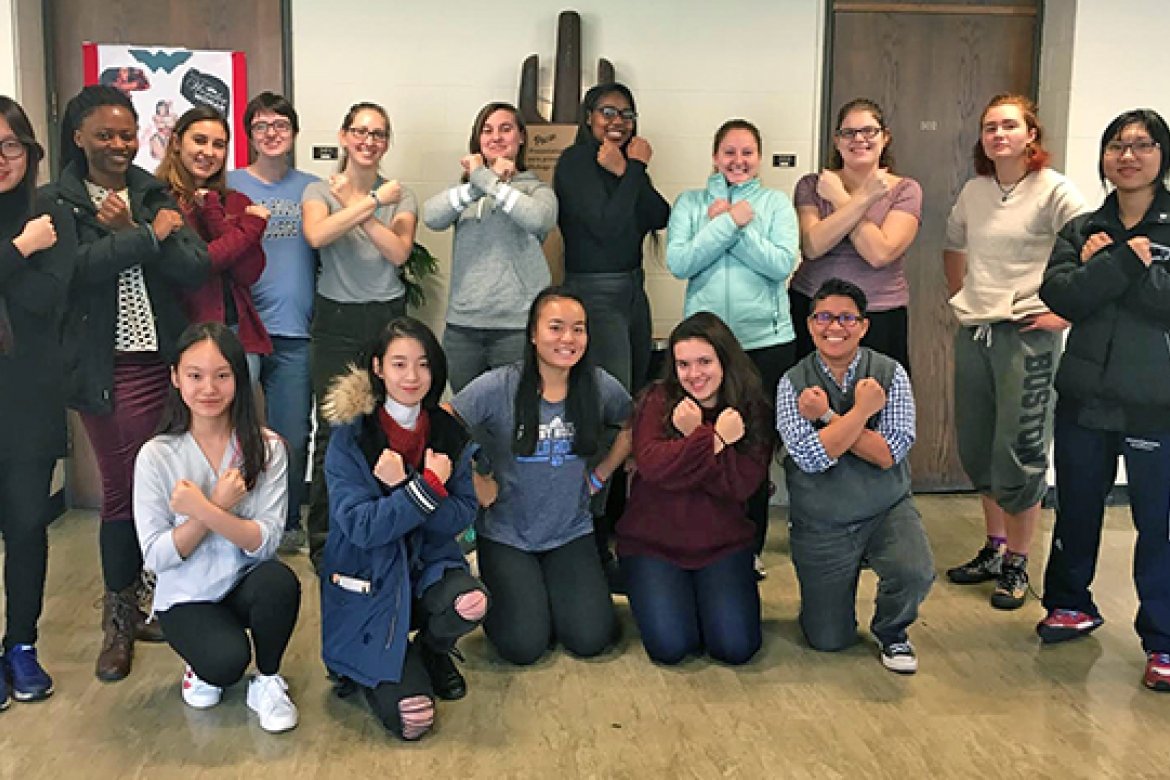 Mount Holyoke's first-year seminars aim to enhance students' analytical and critical thinking skills via diverse topics — even superheroes.
When Dinah Schipper '21 was signing up for a first-year seminar, the one that stood out to her was Wonder Woman: The Original Social Justice Warrior, taught by Jennifer M. Matos, visiting lecturer in Mount Holyoke College's psychology and education department.
She has learned more than she might have expected, Schipper said, noting, "I've become more adept at recognizing both the dominant identities I have and the privilege that comes with them and the complex ways in which my oppressed social identities move me through the world."
The course is just one of Mount Holyoke's more than 30 first-year seminars — small, discussion-based seminars where first-year students work with faculty from across the College.
The goal, said Elizabeth Markovits, director of the first-year seminar program, is "to help students to think analytically and critically."
Equally important is helping students find their intellectual home on campus through the connections formed in the seminars' small classroom environments, Markovits noted.
"Incoming students have varying interests," she said. "So the first-year seminars program offers them the opportunity to explore topics that may have nothing to do with their intended major — or it may allow them to plan for it."
The selections cover a wide range of diverse topics, including multi-ethnic literatures, slang, music, social movements in Latin America, Jack the Ripper — even superheroes.
Each student starts where they are, academically, and as the courses are writing-intensive, peer mentors from the College's Speaking, Arguing, and Writing Program are attached to each course.
In addition to Markovits' oversight, Amber Douglas, associate professor of psychology and education, dean of studies and director of Student Success Initiatives, is working with student focus groups to finetune the structure and offerings of the program.
On the faculty side, Mark Shea, lecturer in English and coordinator of English for Speakers of Other Languages, works with the professors teaching first-year seminars to assess student work in the courses.
The results are a myriad of exciting offerings. Iyko Day, associate professor of English and chair of the critical social thought program, teaches a first-year seminar titled U.S. Multiethnic Literatures: Refracting Africa that explores minority literatures, their cultural politics and themes of cultural identity.
Adriana Pitetta, visiting lecturer in the Spanish, Latina/o and Latin American studies department offers the course Our America? Social Movements in Latin America: Latin American Cultural Studies. The class allows students to explore the historical impacts of social movements on national policy and human rights agendas in Latin America.
Historical interpretations of late-Victorian London lead first-years to Desmond Fitz-Gibbon, assistant professor of history. He offers Jack the Ripper and the Making of Late-Victorian London, which delves into issues of class, gender, race and socioeconomic change.
Wonder Woman, who was inspired in part by Elizabeth Holloway Marston, class of 1915, is a familiar icon to the Mount Holyoke community. The lessons she offers are accessible to everyone regardless of their social identities, said Matos, who uses the heroine to understand and comment on the systems and maintenance of oppression and liberation in the U.S.
"Wonder Woman is more relevant than ever," Matos said. "She is that little voice inside each of us, challenging us to be true to ourselves and to work to live in a just world."