New pollinator garden
New pollinator garden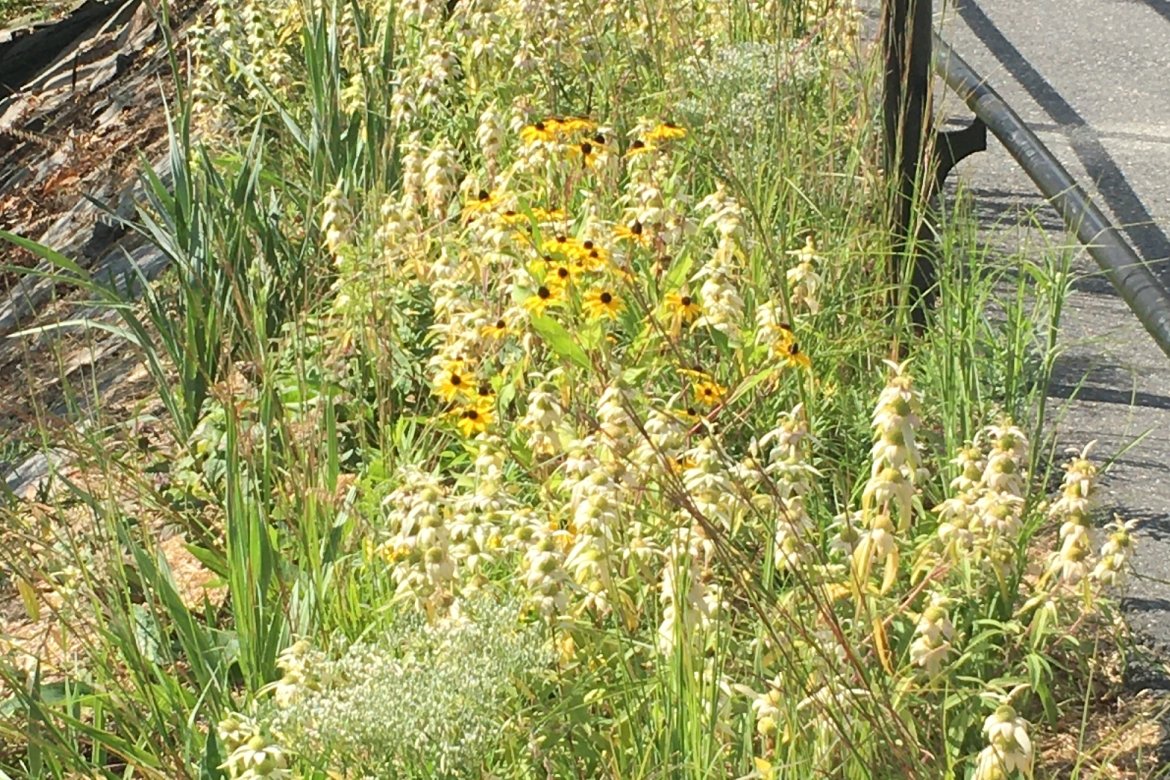 The Botanic Garden has completed work on a new pollinator garden on the Mount Holyoke College campus.
With the help of a Miller Worley Center for the Environment Campus Sustainability Grant received in March, the Botanic Garden has completed work on a new pollinator garden along the strip of sidewalk from the top of the Heckel Staircase to the Art Building bridge. Directly adjacent to Clapp Laboratory, the garden is conveniently located for science faculty and students to access. Once established, the garden will require minimal weeding and maintenance, which allows staff to put the time formerly spent mowing and string trimming the awkward space to better use.
"It was thrilling to be a part of and see the transformation of what could best be described as a waste strip into a richly planted site that started to attract a host of insects within weeks of the initial planting," said Tom Clark, director and curator of the Botanic Garden. "I'm eager to see the planting put to as wide an array of uses as possible, even beyond biology, ecology, and environmental studies, there are opportunities in performing and visual arts as well as other disciplines once we put our collective awareness, curiosity, and creativity to work." 
Clark isn't the only one who is excited about the planting. Martha Hoopes, professor of biological sciences, said, "Pedagogically, this strip is more useful than some of the unmowed zones or even some natural fields. Students can sample a section of that strip and capture the real, outdoor interaction. All the pollinators that are in the 1m area in front of them appeared from the natural environment, found their way to that strip, and move along that strip. I can put my students along the fence and have them collect data singly or in pairs and get information (and LOTS of it because of the number of pollinators) on the entire site in one lab section. It is easy to revisit, and the density and diversity of pollinators will make it much more interesting to students than other sites."
Olivia Aguilar, Director of the Miller Worley Center for the Environment, is thrilled to see how well the plantings have taken off and to think about the curricular opportunities it provides. "This is exactly the kind of collaborative project the Center hopes people use the Campus Sustainability Grants to accomplish," she said.
Clark said that he is heartened by the growing use of the Botanic Garden's resources by the campus community. "I think the pollinator planting adds another layer to the various ways in which we can serve as a plant-based resource as well as contribute to the College's larger goals of fostering and implementing sustainable practices and reducing the carbon footprint," he says. "And the new planting is a heck of a lot more visually stimulating than the strip of weeds that it replaced."