From photography to podcasting
From photography to podcasting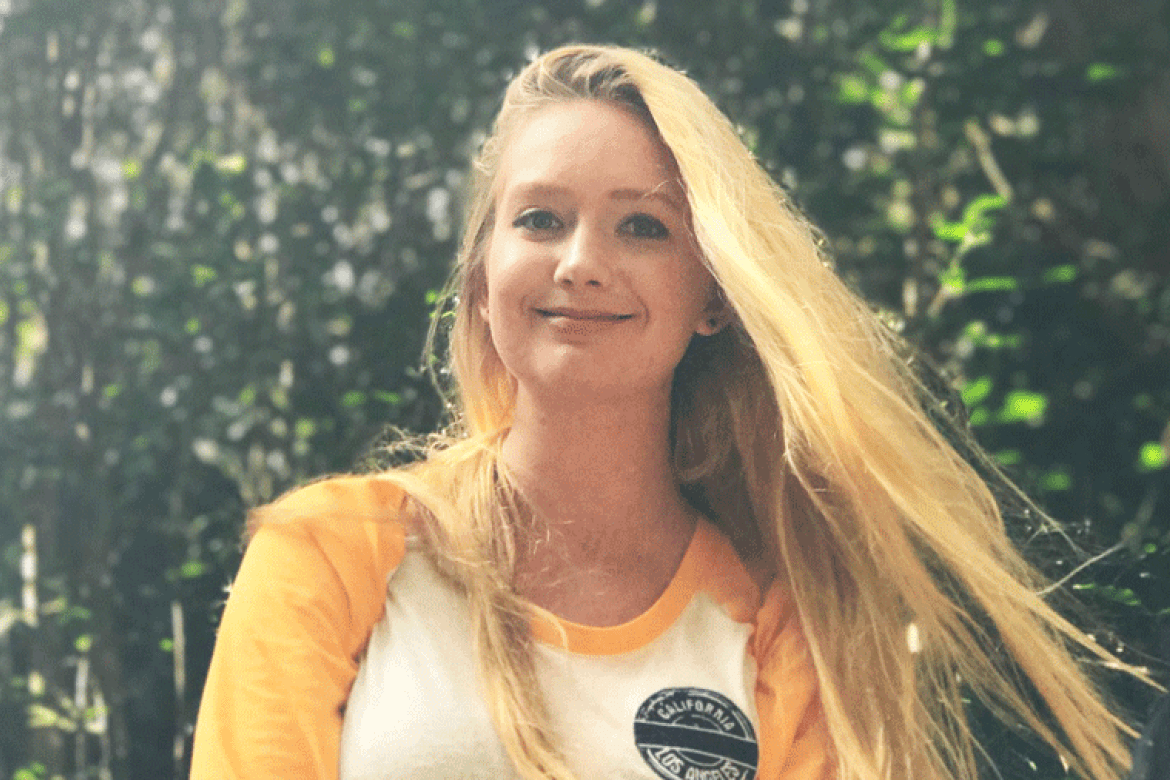 A photography course with an internationally-renowned photographer became an opportunity to produce a National Geographic podcast on climate change.
When Savannah Harriman-Pote '19 signed up for Cyrus Vance Visiting Professor Pete Muller's photography course, The Art of Seeing Things, she never expected it to lead to hours, days and months of listening.
A world-renowned photographer and 2017 National Geographic fellow, Muller had been photographing a project on the effects of climate change around the world. In the course of his work, he had collected hours of interviews and was developing a podcast to complement the photographic element. He needed someone with the right skills and ear to help him shape it into a narrative format.
Muller first came to Mount Holyoke as the Cyrus Vance fellow in fall 2017. "I was drawn by the dynamic faculty, devoted students and natural beauty of the area," he said.
Usually, the fellowship is usually a year-long position, but Muller decided to break it up over two semesters in order to spend time on his photographic work — and he was delighted to return.
The right stuff
As it happened, Harriman-Pote, an international relations major, had worked as a production assistant for her local Hawaii public radio station the previous summer — and came with the skills Muller so desperately needed.
"It was really serendipitous," she said. "I was familiar with the very basics of audio production, and he had been looking for someone who could go over the audio with him, be a second set of eyes — or ears in this instance — and give him some feedback and direction on how he could distill it into a podcast."
For his part, Muller was delighted that he was able to engage with her both as a student and a colleague.
"I was thrilled to learn that Savannah had some background in radio production and an interest in working on the project," he said. "Not only has she been immensely helpful with basic production, but she's also helped shape some of the substantive ideas within the podcast."
Together, Muller and Harriman-Pote spent the semester working on shaping the interviews into brief segments that could be stitched together for a cohesive narrative.
Exploration and education
Harriman-Pote decided to pursue international relations as a major in part, she said, because it gave her great flexibility in exploring her options.
"When I came to Mount Holyoke, I wasn't totally confident in what I wanted to do," she said. "Because international relations spans so many departments and disciplines, it allowed me to interact with a lot of wonderful professors and peers throughout different departments. Only later I found out what my interests lay in journalism — specifically, public radio."
She also found that wherever she turned there was something new to explore, something exciting to learn and someone supportive to help her sort it out.
"Mount Holyoke is a really good platform for students to explore and embrace their own individual interests," she said. "For me, that has been realized most through collaborations with faculty members, all of whom have been incredibly warm and supportive of my work."
Harriman-Pote found a home in the international relations department. She was able to take one of now-emeritus professor Vincent "Vinnie" Ferraro's last classes and has worked with many others.
"I was in my world politics class when Vinnie was here as a guest lecturer," she said. "I've worked with [Professor of International Relations on the Alumnae Foundation and Professor of Politics] Sohail Hashmi. I've worked with [Professor of History] Jeremy King, who is currently my advisor."  
But just as with the world, the opportunities didn't end at Mount Holyoke's gates. Harriman-Pote also took full advantage of the Five College Consortium.
"I have really kind of strapped together a course of study for myself," she said. "I love the consortium because you do have the opportunity to work with people, at other colleges and incorporate that into your major."
Beyond the gates
For Harriman-Pote, graduation is coming up quickly, but she knows she has the skills to succeed in the world. In addition to her experience with Hawaii public radio and putting together a podcast for National Geographic, she is managing editor of the web for Mount Holyoke News, an independent, student-run weekly for Mount Holyoke students, and WMHC, Mount Holyoke's student radio station, where she supplements and updates stories from Mount Holyoke News with the audio format.
Ultimately Harriman-Pote wants to apply her experience at a community level.
"I'm really committed to local broadcast as opposed to national broadcast," she said. "I think the stories they tell are a little bit more unique and personalized to the community and you get a more nuanced perspective. Some people might think it's more modest work, but I think it's just as essential to a functioning community."
While Harriman-Pote would not have necessarily charted the course she is on for herself at the outset of her college career, she couldn't be happier with the way things have gone and how Mount Holyoke helped her put it all together.
"I would say that if you have the drive, and the will to make something happen, Mount Holyoke will do everything in its power to equip you with the resources and skill to support you," she said.
Explore your world. Is a women's college right for you?