Presidential Fellow brings expertise to Intergroup Dialogue
Presidential Fellow brings expertise to Intergroup Dialogue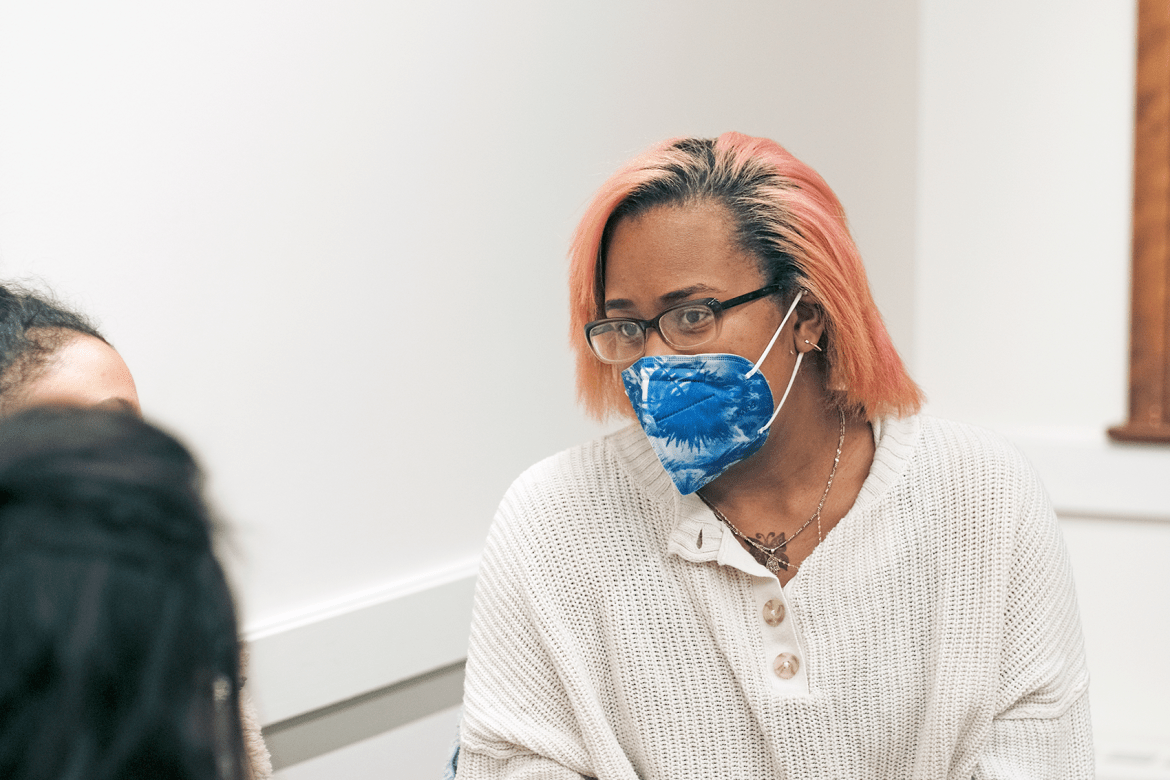 In naming Kristie A. Ford, Ph.D., as Presidential Fellow for this academic year, Interim President Dr. Beverly Daniel Tatum has selected an expert in diversity, equity and inclusion who will help advance the College's commitment to Intergroup Dialogue and other initiatives.
In naming Kristie A. Ford, Ph.D., as Presidential Fellow for this academic year, Interim President Beverly Daniel Tatum has selected a widely respected expert in diversity, equity and inclusion who will play a significant role in moving the College's commitment to Intergroup Dialogue and other initiatives forward.
"Colleges and universities across the country are trying to build Intergroup Dialogue into their curricular offerings," Interim President Tatum said. "Once again Mount Holyoke is ahead of the curve because we have already begun that process. Having Dr. Kristie Ford here is a wonderful opportunity to build on that strategic advantage. I am delighted that so many members of our community will have a chance to learn from her this year."
Members of the Mount Holyoke community will have a chance to meet Dr. Ford at a Thursday, October 20 reception from 4 to 5 pm at the Unity Center, Blanchard.
Intergroup Dialogue (IGD) is a nationally recognized academic, credit-bearing program that originated at the University of Michigan (UM) in 1988 as a means of addressing racial tension on that campus. Its primary goal is to support student learning and competencies around inter- and intra-group relations, conflict and social justice across a range of social identities. 
At Mount Holyoke, Intergroup Dialogue, a collaboration between the Division of Student Life and Academic Affairs, is one component of the College's wide-ranging commitment to social justice — a commitment that includes cultural, resource and community centers; signature events; and a focus on honoring those who have been underrepresented and marginalized. Another key part of the effort is the MoZone Peer Educators Program, through which students are trained as peer educators to lead discussions on issues spanning from gender and race to religion and other questions of identity. This semester, two IGD courses are being offered: a weekend workshop, Understanding Race and Racism in the United States and Mount Holyoke College, and an eight-week course, Facilitating Conversations about Social Justice.
"I am thrilled to be collaborating with and learning from interim President Tatum, Dean Hall, Associate Dean Denson, Professor Keehn and many others as we work to understand the possibilities and challenges of further embedding IGD into the fabric of the institution," Ford said. "I am also looking forward both to getting to know IGD students through a series of focus groups we hope to launch in the coming month or so and to engaging with Mount Holyoke faculty/staff through the IGD workshops."
As a professor, educator and consultant, Ford was founder of the first intergroup relations minor in the United States, established at Skidmore College in 2012. In her current role, she will be consulting with faculty, staff and student facilitators currently involved with IGD; assisting with assessment of existing IGD programs; developing and co-facilitating IGD capacity-building workshops for interested faculty and staff; and helping with IGD curricula development.
To Ford, the work of building networks of communication, exploration and understanding on a campus goes hand in hand with a liberal arts education.
"The knowledge and skills embedded in IGD," she said, "are central to what most U.S. liberal arts colleges/universities are striving to instill in their students — the ability to communicate across difference, to think critically and through an interdisciplinary lens and to purposefully apply these lessons post-college as students work to make meaningful contributions in the world."
Ford's colleagues are looking forward to tapping into her expertise.
"Dr. Ford's research and publications focused on engaging differences and social identities through Intergroup Dialogue are critical to social justice education," noted Associate Dean of Students Latrina Denson. "I was thrilled when I learned of Dr. Ford's appointment as a Presidential Fellow and the research and training she will provide for the Mount Holyoke College community." 
"It is a gift to have Dr. Ford's extensive expertise on both the theory and practice of IGD to help assess the existing program and envision possibilities for the future," said Molly Keehn, Ed.D., visiting lecturer in IGD, who, along with Denson and Vice President for Student Life Marcella Hall, has been instrumental in building the program. "We know from the research that IGD is a high-impact practice for social justice education, and the current times are calling for the skills to engage across differences more than ever before."
According to senior and MoZone Peer Educator Maitreyi Subedi, "As a student and a facilitator of IGD, I am very excited to have Kristie Ford on campus and to see intergroup dialogue be intentionally incorporated in higher education. The skills I learned as a facilitator around having difficult conversations, incorporating diverse voices and navigating across differences have been useful outside my role as MoZone facilitator. I am looking forward to the impact Dr. Ford will have on our campus culture with the potential incorporation of IGD in classroom curriculums and making IGD more accessible to the wider Mount Holyoke Community." Subedi is an international relations major from Austin.
During her 16 years in academia, Dr. Ford has served in a number of DEI leadership roles, and as a sociologist she has concentrated on social justice–focused approaches to teaching and learning. Her publications include a co-edited book, "Intergroup Dialogue: Engaging Difference, Social Identities and Social Justice" (Routledge, 2014), an article on the possibilities and challenges of white students developing alliances with people of color in the journal "Sociology of Race and Ethnicity" (2015) and "Facilitating Change through Intergroup Dialogue: Social Justice Advocacy in Practice" (Routledge, 2018).
Dr. Ford's interest in broadening understanding and opportunity began with her childhood in a primarily white, middle- to upper-middle-class suburb of Columbus, Ohio.
"As a Black girl in the K–12 public schools, I regularly encountered racialized and gendered stereotypes that negatively impacted my sense of self," she recounted. "In addition, the all-white teaching staff, while well-intentioned, did not have the training or tools to effectively navigate difficult race- and/or justice-related discussions in the classroom. Instead, they employed techniques that were often harmful to already marginalized communities, like Black, Indigenous and people of color, Jewish and queer-identified students. At Amherst College, I found my way to sociology, and then to IGD at the University of Michigan, because I believed that there must be a better way to responsibly engage DEI issues within our classroom spaces."
Dr. Ford will lead a session on IGD for faculty and staff in mid-January.
Ford received her B.A. in sociology from Amherst College and her M.A. and Ph.D. in sociology from the University of Michigan, Ann Arbor.