The support for students is really unparalleled
The support for students is really unparalleled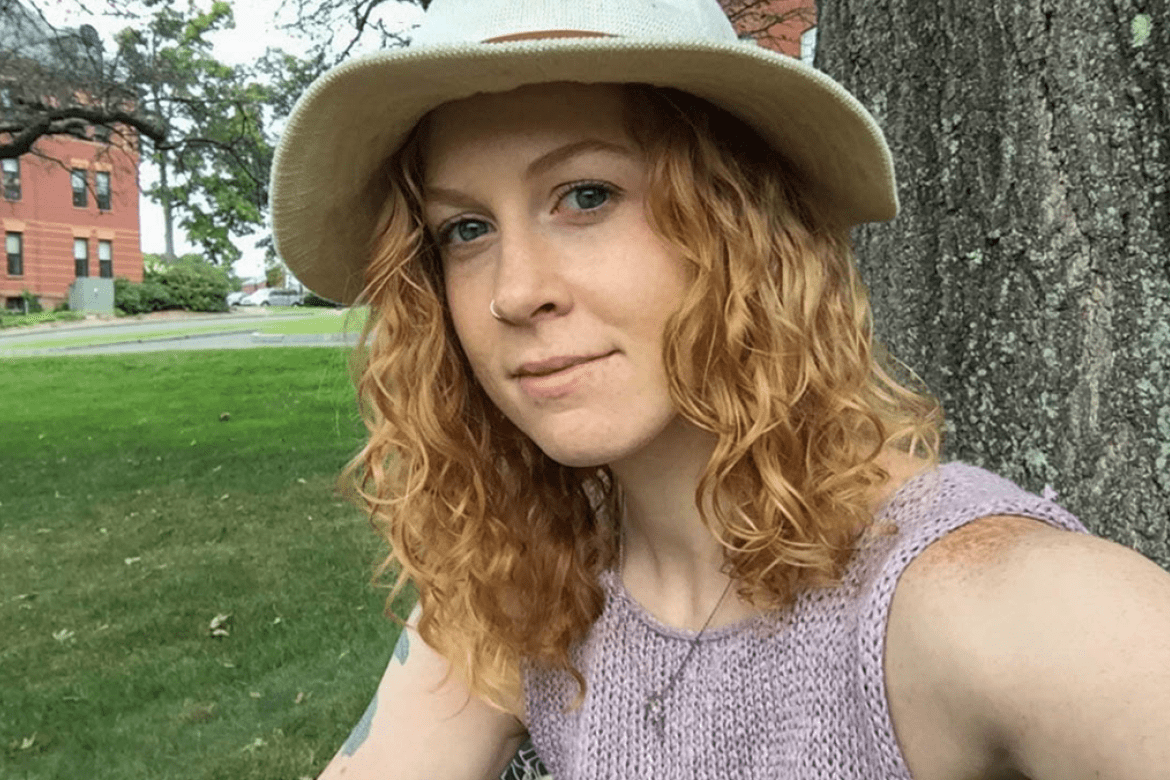 "I feel so lucky to be admitted to this incredible Frances Perkins program. The support for students is really unparalleled."
Megan Michaels turned her experience in the coffee industry into a bachelor's degree — and a career path. 
Before Mount Holyoke, Michaels worked at an espresso shop in Portland, Maine. More than a barista, she wore many hats at the store, including traveling to Honduras to buy green coffee and judging cupping competitions — a process of scoring the aroma and taste of coffees. "I worked in that industry for seven years," she says. "I was able to learn a lot, as well as get a lot of professional experience. Coffee was my wheelhouse." 
She attended Southern Maine Community College and one day a representative from Mount Holyoke did a presentation about the Frances Perkins Program, which is designed for students of nontraditional age who have not yet earned an undergraduate degree.
"I feel so lucky to be admitted to this incredible Frances Perkins program," Michaels says. "The support for students is really unparalleled, I found in surveying different nontraditional student programs. In her presentation, the program director, Carolyn Dietel, made it very clear that as an FP you would be functioning as — and treated as — a normal student, with the same exact educational experience. I didn't miss out on anything to do with any of the academic life at Mount Holyoke." 
Her job had sparked an interest in Latin American history and agriculture, so Michaels was delighted to learn about the College's pre-professional track in development studies, offered through the Nexus: Curriculum to Career concentration. 
"I did not know this at the time, but Mount Holyoke had the perfect professor for me," she says. "It was just serendipitous. I was able to combine sociology and study globalization and development, which was my ultimate goal, and combine that with really targeted Latin American studies — and also improve my Spanish." 
That professor was Lowell Gudmundson, professor of Latin American studies and history. 
"He was a great person for me to work with as a student," she says. "I took a number of history classes, which were cross-listed in Latin American studies and focusing on agriculture. It's kind of a niche topic. You do have to find a professor who has expertise and is willing to teach a whole class on that. I got to learn exactly what I wanted to learn — and then some." 
It helped that they had a lot in common, she says. "I really hit it off with him because we're both from really cold climates — I'm from northern New England and Lowell is from the Midwest, and we related about people who love hockey. And we are both very interested in tropical Latin American agriculture." 
In addition to the perfect professor, Michaels found the perfect internship, which she came across at the College's Career Development Center: Working for Verité, a nonprofit labor organization based in nearby Amherst.
"This internship changed the whole course of what I could imagine for my professional life," she says. "Given my background in the coffee industry and my specific interest in agriculture, I was asked to work on other projects. One of them was researching and writing reports for the U.S. Department of State on forced child labor, and also human trafficking in global supply chains of commodities, including agricultural commodities." 
Another part of her duties included working on the organization's research methods to make sure certain language reflected gender equity issues. It gave her an opportunity to incorporate everything she had been studying in the social sciences and research, as well as her growing Spanish skills. 
"I got to do research in Spanish and English and also follow my gender and sociology interests and skills, and my agriculture interests, and I was given a lot of responsibility that was really, really wonderful," she says. 
Michaels' cocurricular time at Mount Holyoke centered around her being a Frances Perkins Scholar. 
Serving as senator for her student org, the Frances Perkins Student Association, was an important way to get involved beyond the classroom with the campus community, Michaels says. 
"To be able to get involved and represent my nontraditional student community as well as commuter students, who are a small but important part of Mount Holyoke, and participating in the Senate, was really rewarding," she says. "It ended up being a fantastic way to connect with other students — having a student community is really important. Mount Holyoke offered a program where I could connect with other students that I could relate to and benefit from that connection academically and socially." 
Her future plans include a graduate degree, possibly in development studies, says Michaels. She hopes to find work advocating for workers, possibly in an international organization
The gift of the Career Development Center
Megan Michaels found her dream internship through the Career Development Center at Mount Holyoke. She first learned about it Holly Hanson, now Professor Emeritus of History, who was a co-chair of the development studies Nexus track Michaels was on. She used Handshake, the CDC's database, to apply for the position. 
That's where Verité, the nonprofit labor organization based in Amherst, had posted an ad for its internships. Verité has a strong internship program that attracts students from all the institutions in the Five College Consortium. 
The CDC lives up to its name: It is truly a place where careers are developed. More than just résumés and cover letters, the CDC's skilled staff offer help exploring different fields, networking, finding internships, landing jobs, applying to graduate or professional schools and more. Wherever the student — or alum — is on their path, the CDC has resources to help. 
The CDC also administers several programs, including the Lynk curriculum-to-career program, which includes funding every student for a qualified internship. Another is the award-winning Sophomore Institute, where Michaels first met the person who would become her supervisor. 
"That was a great first connection, because it was in person," she says. "I went to the event even though I was 28 at the time because it was so helpful." 
She took advantage of as much as she could at the CDC, Michaels says. 
"I spent a lot of time going to the CDC," she says. "I used it a lot. I went to see all of the different advisors. I went to their open houses and open hours. I would recommend anybody, especially a young student first encountering professional development, to just go and ask questions. Bring in a résumé — or bring nothing if you don't have one, or feel overwhelmed and can't start it on your own. They'll help you. They'll push you along, even if it's just a five-minute meeting. They want you to succeed. That's their job."