There's a space for everyone
There's a space for everyone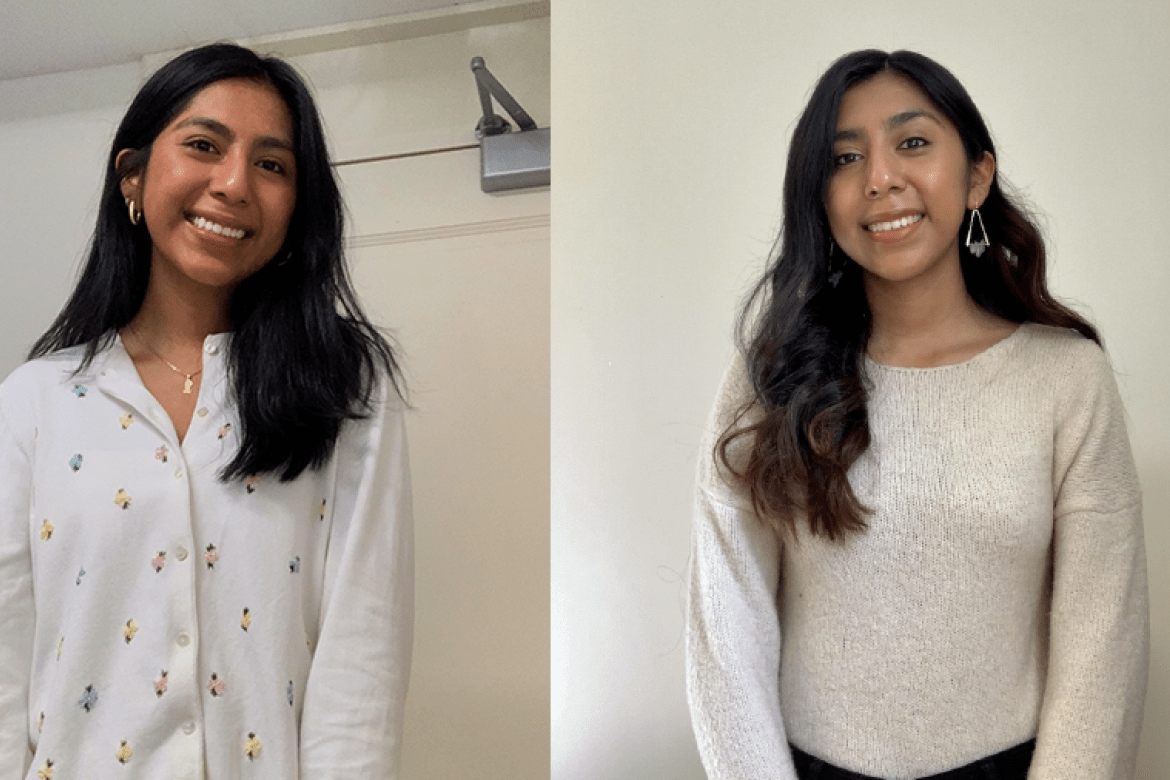 "I never thought I'd research reproductive organs. But it's super cool." – Genesis. "We find our space on campus. There's a space for everyone." – Nicole
Genesis Lara Granados and Nicole Lara Granados, twin sisters from the Bronx, are STEM-oriented, squash-playing, community-minded, Early Decision members of the class of 2021. 
And they are also their own people.
It all began with squash. The two started playing the game at CitySquash, a community-based organization in their Bronx neighborhood that also offers academic programming and extracurriculars.
One of their coaches was a Mount Holyoke alum, Kathryn Brummer '13. 
"We both tried out and joined when we were in sixth grade and we've been in ever since," says Genesis. "Our coach loved Mount Holyoke. She always spoke about it. And when it came time to apply, well, she also knew the Mount Holyoke coach at the time. It was just one more connection." 
Even better, Brummer was a green griffin — just like Genesis and Nicole. The two have played varsity squash for their four years at Mount Holyoke and this year they are co-captains. 
"I have been a student-athlete since my first year at Mount Holyoke," says Genesis Lara Granados. "Playing for the squash team has been one of the highlights of my entire college experience." 
A biology major, Genesis was a sophomore when she joined the lab of Patty Brennan, assistant professor, where she did research on reproductive morphology. 
"I never thought I would research reproductive organs, like who does that?" Genesis says. "But actually, it's super cool. And again, I thought I wouldn't write a thesis. It's one of those things you hear about as a first year and it's crazy, it's too much. But then here I am, writing one." 
Starting to do research and interacting more with faculty was a big first step, she says, one that was well worth it. "I've had an amazing experience with Patty. I've grown so much in her lab and in research in general. She is super sweet and super nice. I was always super excited to go to lab. Research has sent me in a whole different direction." 
That direction included researching the micro-habitat and activity patterns of reptiles and amphibians in a remote valley in northern Tanzania. Genesis is completing her senior thesis in Brennan's lab, and soaking up guidance and advice about graduate school and post-college jobs. She also works for the Miller Worley Center for the Environment as the Campus Living Lab assistant. She monitors the environmental monitoring program and manages the data that the weather stations and other systems generate. 
Nicole Lara Granados is also a student-athlete, also a four-year member of the squash team, and co-captain this year. Nicole is on the Athlete Empowerment Coalition, a new student group for first generation and ethnic minority student-athletes under the athletics department. She has been involved with the Latinx student activism group, MEChA de Mount Holyoke, as has Genesis, and received a grant from Mount Holyoke that funded her attendance at a MEChA conference in Los Angeles. 
Nicole wasn't sure about her major when she first started at Mount Holyoke so she took a wide variety of courses, subjects she found interesting, including cultural anthropology, introduction to gender studies and elementary Italian. When it came time to register for her second semester, she was interested in psychology but she wasn't sure which course. So she turned to her squash teammates. 
"A senior on the team was like, 'You have to take a class with Jen Matos, she's so amazing,'" Nicole says. "I took her class called Racism and Inequalities in Schools and Society. She was so honest and caring about the material. I really enjoyed the class and I really enjoyed having her as a professor." 
Nicole decided to major in psychology and asked Matos, an assistant professor, to be her advisor. She took more classes with Matos and used her Lynk internship funding to work in ¡Científicas Presente!, a summer STEM program for girls in San Juan, Puerto Rico, with Matos and Jared Schwartzer, associate professor. She also spent a semester studying in Rome. 
As a senior, Nicole works in the Matos lab studying social injustice and education. That research included working on Matos's first book, which credited Nicole and the other students who helped her.
"I'm so honored to have met Jen," Nicole says. "I know I can always email her for a recommendation or advice. My name is in a book out there. I'm always thankful to her. She's just amazing and I'm so glad to have her as my advisor." 
What she loves about Mount Holyoke is that there's a place for everyone, Nicole says. "Whether it's as people of color, athletics, academics, accessibility, we find our space on campus. There's always a space for everyone. There's always someone willing to help you, someone who can guide you down the path."
For her, says Genesis, Mount Holyoke is empowering. When she was in high school, women's colleges weren't particularly on her radar, she says. But then she looked at Mount Holyoke. 
"Because it is a women's college, we naturally have a lot of women in STEM, and there was something reassuring in that," she says. "I knew my classmates were going to resonate with me in one way or another. There was just something reassuring about that, that if they could do it, women of color and Black women could as well. This also has a lot to do with being on the squash team, where you know you have your teammates to help you."
Genesis has landed a position as a research tech at a hospital in New York City and plans to go to graduate school in a couple of years. Nicole is looking for a job that is education-focused, such as in a nonprofit or as a teaching assistant working abroad.