Entrepreneurs shine at Grinspoon awards
Entrepreneurs shine at Grinspoon awards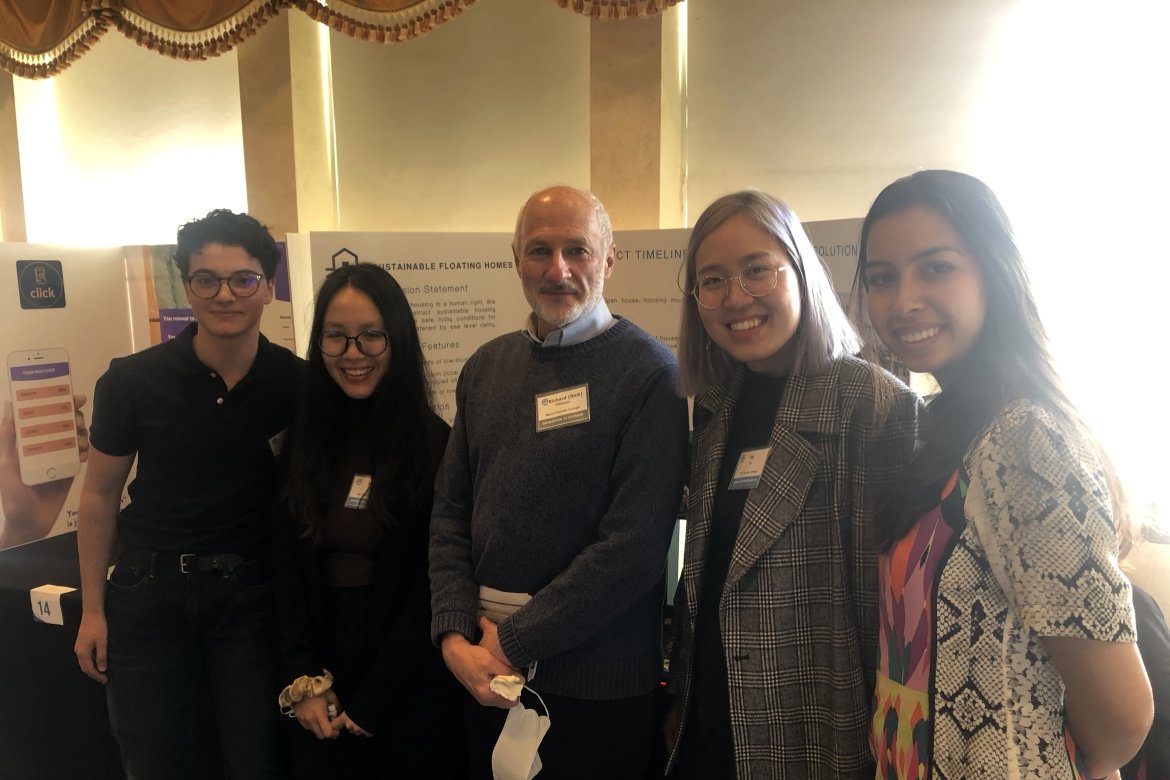 Mount Holyoke students and alums won recognition at the Grinspoon Foundation's prestigious annual entrepreneurship competition.
An innovative proposal to build floating houses to meet the twin crises of homelessness and global warming in Vietnam and a new digital platform that would allow people with similar interests to meet each other were two of the concepts developed by Mount Holyoke students that won recognition at the Grinspoon Foundation's prestigious annual entrepreneurship competition.
Two Mount Holyoke alums were also recognized by the foundation's Entrepreneurship Initiative (EI) when it held its yearly showcase for students from 14 western Massachusetts colleges in late April.
For Rick Feldman, the College's entrepreneurship coordinator and lecturer in managerial economics, Mount Holyoke's consistent success in gaining annual recognition at the contest is no surprise because so many of the ideas for new business and social ventures developed by his students stem from the multidisciplinary approach that is central to the College's curriculum.
Vy Hoang '24, Linh Mai '23 and senior Phi Do's floating house concept, for example, incorporated work from both computer science students and Five College Associate Professor of Sustainable Architecture Naomi Darling along with their work in Feldman's courses in conceptualizing affordable and sustainable floating homes that would expand the supply of housing stock in Vietnam. And Lea Sleiman, a senior who's majored in math and data science, created a project, "Click," which aims to develop a digital platform for people to meet others with similar interests (including anything from hobbies, sports and dining choices to professional interests), utilizing elements including graphic design, data science and web development. 
And, like most of the start-up ideas developed by Mount Holyoke students, the genesis of both projects began in work that was done in courses offered through the College's program in Entrepreneurship, Organizations, and Society (EOS). Phi Do '22 and Lea Sleiman '22 were both students in Feldman's entrepreneurship capstone course this past semester.
Architectural studies and economics major Linh Mai, from Ho Chi Minh City, Vietnam, said that the floating house concept was still in its early stages. "Right now," she said, "the project is still at the concept stage where we develop operational plans based on the knowledge we gain from our entrepreneurship class with Professor Feldman. Hopefully, we will be able to continue and actualize the project in the near future. Our hope is that we can design housing models that can last, stand against rising sea levels and accommodate the needs of the users."
"I am building an app that centers platonic relationships!" Sleiman, from Beirut, Lebanon, said. "Via a matching algorithm, we will be looking to help people with similar hobbies and interests connect, with the bigger goal of also adding club and community features. I am an international student, and home hasn't really been accessible recently due to political reasons. This just means I move a lot during the summers. I also am a big fan of sports and have been playing soccer for as long as I can remember. Moving and wanting to connect and explore the outdoors with others hasn't been easy because there aren't many ways to do so right now. That's where my app comes in!"
Mount Holyoke's entrepreneurship offerings include classes as well as opportunities to explore starting new businesses and social ventures outside the classroom through the MHC Entrepreneurship Club and other cocurricular activities. 
Feldman himself has long experience as both an entrepreneur and an academic at Mount Holyoke and throughout western Massachusetts. He was a driving force, for example, in the Grinspoon Entrepreneurship Initiative — which works with local colleges to encourage student entrepreneurs, Valley Venture Mentors and similar efforts.
"Mount Holyoke students have had great success through the Grinspoon Entrepreneurship Initiative over the six years of our EOS/Entrepreneurship program, and the program has provided wonderful opportunities to students throughout the region," he said. "The Grinspoon EI has been a key component to our courses and on-campus events, ensuring that our total program fulfills our students' needs and interests."
Two Mount Holyoke alums were also celebrated at the Grinspoon event which brought hundreds of students from the valley to compete in a pitch contest and present ideas for new ventures spanning from a new granola company, power generation system and card game to an app that helps people navigate social anxiety.
Regina Ye '18 was named Grinspoon's entrepreneur of the year for her work as co-founder and CEO of Topsort, an advanced software platform aiding effectiveness in online advertising. As a student, she was recognized for the development of an innovative travel case for cosmetics, an idea she developed in the EOS capstone course and prototyped on a 3D printer in the Fimbel Maker & Innovation Lab.
Ching-Ching Shiue '17 was honored for their work in developing Itemfarm, a company that makes factories the size of vending machines that can 3D print, mill and laser cut and which allow artists and designers to develop new products and bring them to market. With a self-designed major in biomimetics, Shiue was previously honored by Grinspoon for their innovative work with 3D printing and additive manufacturing — ideas and prototypes they developed at Mount Holyoke in EOS and, again, the Fimbel Lab.
"Entrepreneurship is the most straightforward way to approach solving a problem, filling a need or developing something new the world hasn't seen yet," they said. "The new and novel, as well as where we could be going or what could change (as opposed to where we currently are), has always intrigued me, and having my own business allows me to explore and develop those things as freely as I can, provided my team can keep up with rent."