Joy, sunshine and cheers: Convocation 2023
Joy, sunshine and cheers: Convocation 2023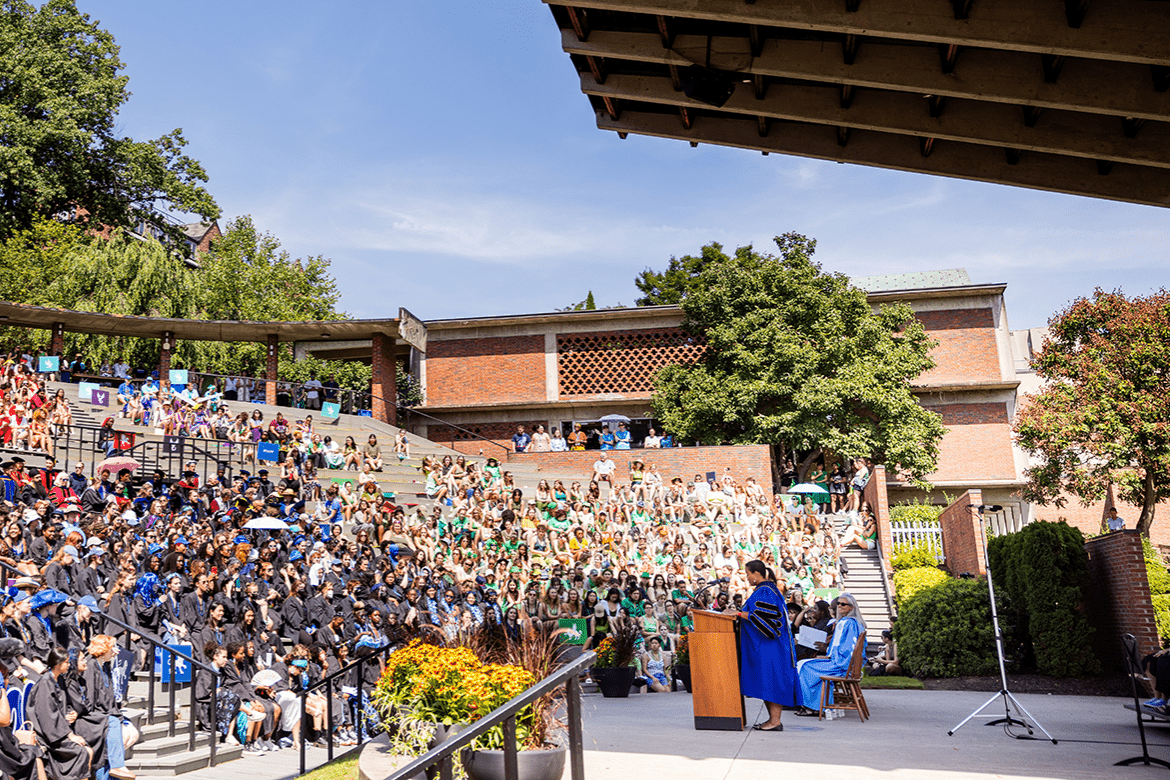 Blazing sun didn't defeat the costuming, cheers or thoughtful messages at Mount Holyoke's Convocation, one of the loudest events of the year.
2023's Convocation was held on a blazing hot day, but that didn't deter Mount Holyoke revelers from draping themselves in festive gear. Students wore costumes and accessories relating to their class symbols and colors, including face paint, flower crowns, lion onesies, parasols, glitter wigs, colored cowboy hats and at least one banana costume.
Faculty also got in the spirit; one professor topped his regalia with a cheeseburger hat, and another wore a fringed teal fez.
As the volume inside the Gettell Amphitheater ranged from a buzz to a low rumble, Chair of the Board of Trustees Karena Strella '90 joked, "I hope all of South Hadley can hear us today."
President Danielle R. Holley, presiding over her first Convocation at Mount Holyoke, asked the audience, "Are you ready to get really loud?" The answer was a resounding holler from the assembled students, faculty, staff and visitors.
Students, besides chanting for their class year, also serenaded President Holley with yells of "20! 20! 20! 20!" in honor of her being the College's twentieth president.
Convocation is easily one of Mount Holyoke College's loudest traditions. A celebration of the beginning of the academic year, it brings together the entire student body — from firsties to seniors, and includes graduate students, Frances Perkins scholars, exchange students and transfer students.
Amidst the joy and the excitement, speakers had words of wisdom they imparted under the relentless sun.
Strella advised the students, "Try something new and give up doing things that no longer serve you. Practice your leadership; become the leader you want to work for or be mentored by. There is a dearth of great leadership, and you can fill that void."
President Holley touched on themes brought to light by this year's Common Read, "Disability Visibility." "Excellence and inclusivity are two values that I heard about quite a bit in my conversations about the College," she said. "And while we have work to do as a community in order to fully realize our inclusion goals, Mount Holyoke is a diverse intellectual community up to the challenge."
Professor Lucas Wilson gave a thoughtful speech about setting intentions for the academic year and for one's life. "Be adventurous, intensely studious, mindful of all the opportunities for repair on our planet," he said. "Let's hold each other accountable in our collaboration this academic year and celebrate what we accomplish in May 2024."
Maille Romulus '24, the president of the Student Government Association, urged her fellow students to examine the spaces they hold in the community and to take action to make them better. "We need to be real with ourselves and start thinking about the roles that we play on this campus and whether we are trying to make it as inclusive as possible."
President Holley closed the Convocation with this powerful exhortation: "We at Mount Holyoke have inherited a remarkable legacy, and we are headed for a dynamic future."