Media Lab expands Mount Holyoke's digital offerings
Media Lab expands Mount Holyoke's digital offerings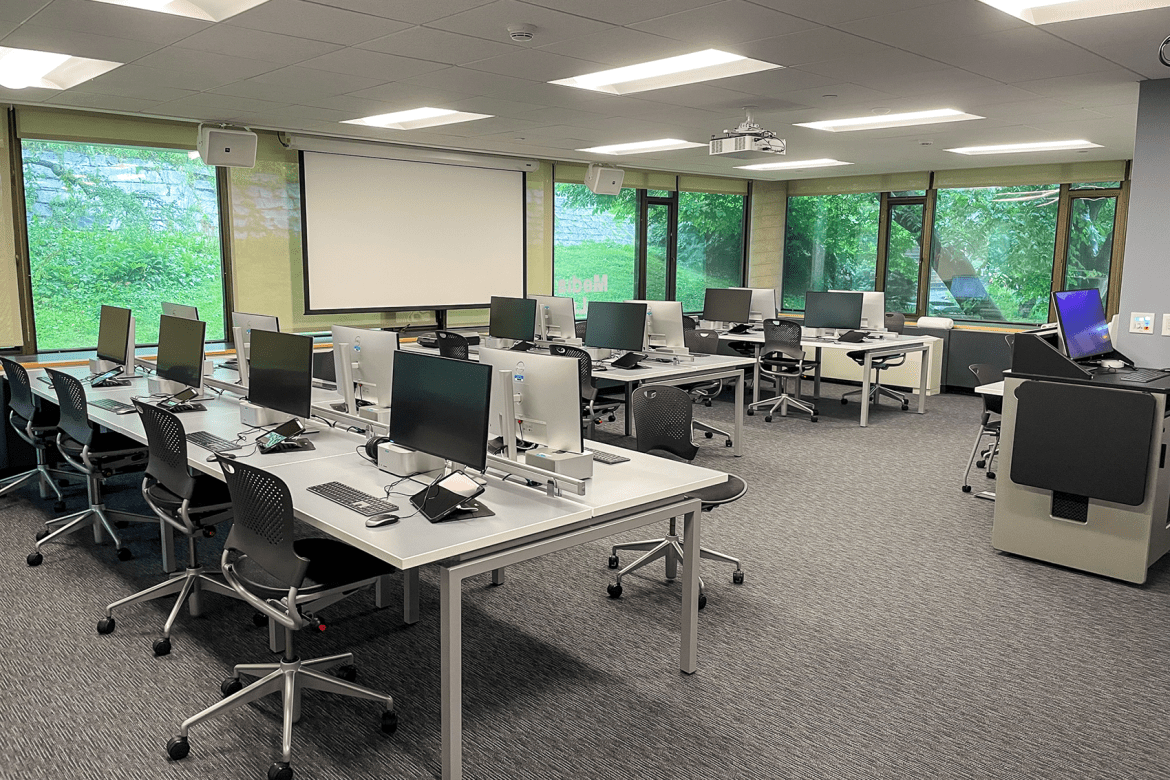 With the opening of the Media Lab in the Art Building, MHC students exploring filmmaking, architecture, studio art and other pursuits, have another cutting-edge facility — as well as state-of-the-art digital equipment and capabilities — at their disposal.
This academic year the College has taken another step forward in opening doors to the digital world for women and others who have all too often been shut out.
With the opening of the Media Lab in the Art Building, students exploring filmmaking, architecture, studio art and a host of other pursuits have another cutting-edge new facility — as well as state-of-the-art digital equipment and capabilities — at their disposal. In development for a number of years and completed this past summer thanks to an impressive concentration of energy and coordinated effort, the Media Lab joins and complements a number of other new tech-oriented spaces which have come online in recent years, including the Fimbel Maker & Innovation Lab, the Music Technology Labs in Pratt Hall and the Chen Studio in the Art Building, which is used primarily for film and video work.
For Thomas Ciufo, associate professor of music and director of the Arts and Technology Labs, these new facilities have put Mount Holyoke in a leadership position among women's colleges in terms of integrating technology into creative arts curricula.
"We are all very excited about the launch of the Media Lab and the curriculum the lab supports and makes possible," Ciufo said. "From its opening this past semester, students are really engaging with this new lab and making very interesting and innovative work. This new space, in collaboration with our other recently launched tech spaces, creates an amazing network of integrated facilities and new course work at the intersection of creative arts (broadly considered) and emerging technologically informed creative practices."
"With the addition of the Media Lab, we now have a set of truly innovative multidisciplinary spaces for students and faculty from across the campus."
Ciufo, who designed and directs the Media Lab, is also project manager of the College's Arts and Technology Initiative, which aims to transform teaching across the arts — in large part by incorporating new technologies — and to foster a culture of creative/critical making across the campus.
In the fall semester, seven classes from three departments — studio art; film, media, theater; and art history and architectural studies — used the Media Lab. In the spring, the lab will support a new collection of courses and will open up for drop-in use by students from across the campus.
For Assistant Professor of Digital Art and Design Marianna Dixon Williams, the up-to-the-minute tools in the new lab are just part of the equation.
"We dive into a range of tools stemming from media arts practice," Williams said, "from machine learning to video installation to digital fabrication. But in the end, I hope to provide students with conversations in the studio that lead to a consideration of their voices as artists, technologists and designers and of the impact they are able to make within their communities."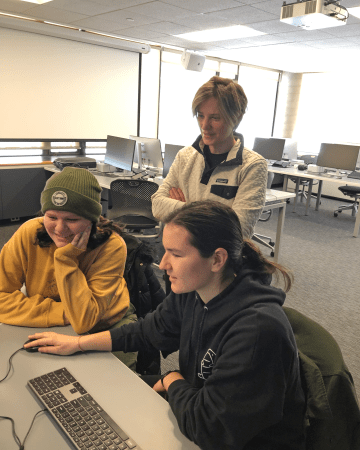 Williams, who is in their first year at the College, is teaching foundations of art and technology in the Media Lab both semesters this year. It is a hands-on introduction to digital-art making using computers and related technologies. In future semesters, they will also be teaching digital media art, an intermediate-level course more focused on animation, machine learning, computation video and interaction. Also, in the spring semester Williams will be teaching an upper-level digital media art course.
"Media arts is a field of constant innovation," Williams elaborated. "We are challenged to gain an understanding of philosophy, computation, critical theory, history and technologies specific to producing a project in physical or experienced space, for example. And we are asked to synthesize all of this into a conversation that we can share through our production and research. In general, I believe that art students are some of the most hireable people around because of our fearlessness to try new things, to reset, to keep learning and to solve problems. But, on a practical level, students in my foundations class will also learn methods such as 3D printing and scanning, 3D solid modeling, laser cutting, motion graphics, interaction through creative coding, topics in AR/VR and machine learning for video, video editing, and installation practices."
In late November, first-year Clay Halpern '26 of San Carlos, California, a student in Williams' introductory course, was beginning work on her main project for the semester.
"Currently," she said, "I'm in the early design phase of my synthesis project for the semester — it's an extension of the experimental film project I just completed, and I'm excited to bring some of those visual ideas into the 3D space through modeling and building an interactive sculpture piece, which I plan to fabricate in Fimbel after designing it in the Media Lab."
"I really like working in the Media Lab," Halpern added. "I find it an ideal space to focus in because it's never too bright or noisy, and the huge windows on all sides, especially those looking down onto the botanical garden, keep you from feeling boxed in while working on a computer for long periods of time. I've never felt constrained in what I could achieve with the tools there; every new idea I have is met with guidance, encouragement and the appropriate tech to actualize it."
In the same class, sophomore Victoria Faulkner '25 was working on two projects, the first a video project and the second a sculptural project to be both 3D modeled and made at the Fimbel Lab.
"I really love the Media Lab," the history and studio art major from Bartlesville, Oklahoma, enthused. "I work in media resources on campus. Part of that work has meant that, while I wasn't directly working, I got to see the lab being installed and worked on. I've gotten to be really hands-on in general with the lab, so I'm really familiar with and excited for the space."
The new facility
In providing a space that serves interdisciplinary work in digital media arts and technology across the campus, the new facility at Art 211 spans three interconnected spaces.
The main teaching/lab space (including 16 workstations, a teaching station and a dedicated print/scan station) also houses large format scanners, a larger format printer and desktop peripherals such as iPads and headphones. When not in use for classes or workshops, the workstations are available for student use during drop-in hours, supported by student lab assistants.
An adjoining work room/interactive-design and virtual-reality/augmented-reality space supports emerging-technology work related to advanced video editing, digital drawing and animation, human-computer interaction design, AR/VR design, and digital music creation while offering the flexibility to accommodate new uses and to serve as a small screening space for student film and multimedia projects. This space, with five large-screen, high-end computers, can also be used simultaneously with the main lab so students can get work done while the main teaching space is being used for classes.
The third space, a multimedia production suite, is a smaller single-user/small-group studio space for advanced audio/video editing and multimedia production work, as well as for recording voice-overs and podcasts. This space features a high-end computer, a large-screen display and dedicated audio/video editing and production tools.
While enhancing MHC's reputation for innovation and fostering a creative maker culture, the Media Lab also helps to meet the ever-growing faculty needs for resources to enable both existing and new courses and to support interdisciplinary learning and creative making across the campus.
"With the addition of the Media Lab, we now have a set of truly innovative multidisciplinary spaces for students and faculty from across the campus," Ciufo said. "These state-of-the-art facilities are enhancing existing course work in several departments, supporting many new courses and providing students a space to work, collaborate and innovate. The Arts and Technology Initiative positions Mount Holyoke College as a leader in this area and further enhances our reputation for innovation and ongoing engagement with creative maker culture." The project was funded through the Arts and Technology Initiative supported by the College and by a Sherman Fairchild Foundation Arts and Technology grant and a grant from the George I Alden Trust. An open house and various workshops will take place in the Media Lab this spring.