Learning to lead
Learning to lead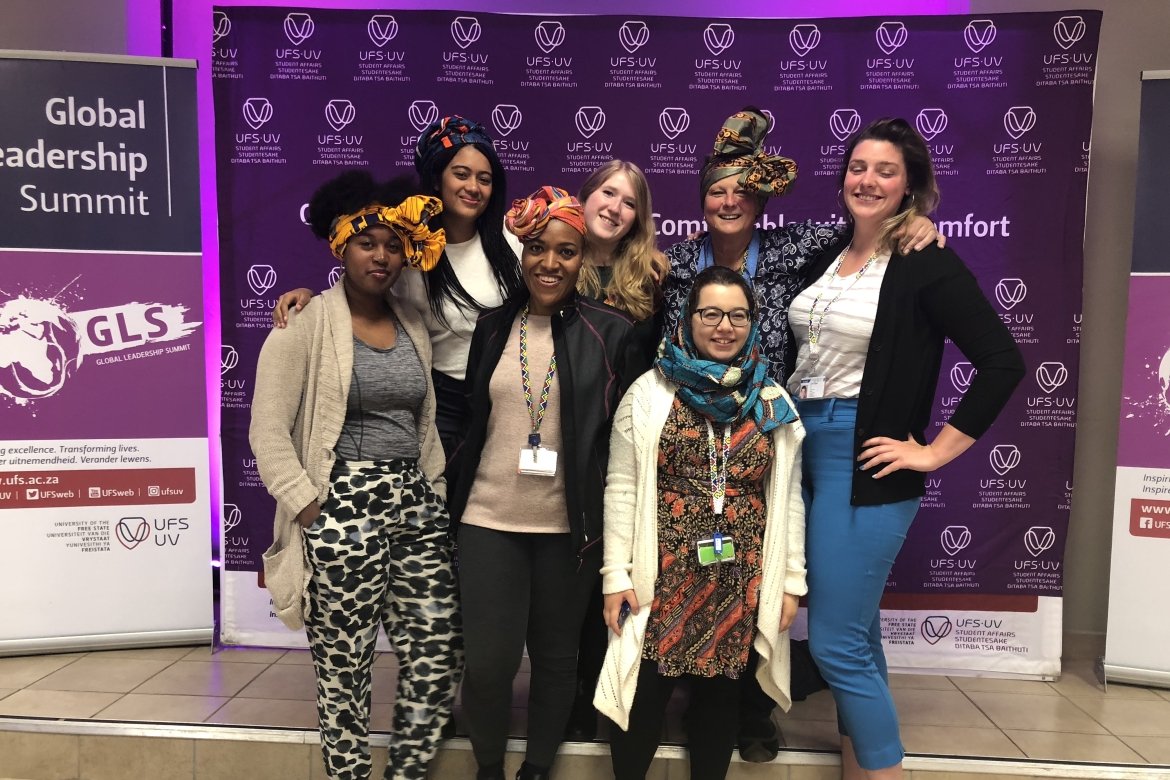 Mount Holyoke students and alumnae attended the 10-day Global Leadership Summit in South Africa this summer, returning with inspiration and commitment.
As a major in Africana studies with a concentration in black community organizing, Monique Roberts '19 was the perfect person to attend the 2018 Global Leadership Summit in Bloemfontein, South Africa, in July. 
The summit offers 10 days of deep diving into such topics as reconciliation and transformation, leadership, arts and social justice, decolonization, engaged scholarship, and gender, intersectionality and diversity. Even more compelling for Roberts, the conference was held in South Africa, where lingering effects of apartheid — which formally ended in 1991 — are evident across the society, including in academia. 
"This was a really important trip for me," said Roberts, noting that her parents are immigrants from Jamaica. She plans to work in social justice education and facilitation after she graduates. "I had some introductory understanding of what apartheid was, but I had never traveled to South Africa or to the continent. I wanted to see how people there were building relationships, especially across race lines and class lines."
Roberts was one of five Mount Holyoke College students and alumnae to join student leaders — from 14 colleges and universities from around the world — in comprehensive discussions about comparative global leadership, with an emphasis on social inclusion and social justice.
With its focus on leadership, social justice and global education, the summit dovetails seamlessly with the College's learning goals. Given how crucial internships are to student success, Mount Holyoke's Lynk initiative provides funding for domestic or international internships and research to every eligible student. Roberts and another participant, Aicha Belabbes '19, received Lynk funding to attend the summit.
Travel and other grants are also available. For instance, another participant, Gabrielle Hernandez '19, received student conference support from the McCulloch Center for Global Initiatives.
Competitive selection process
All five participants were chosen through a competitive application process. Belabbes is an English major. Hernandez is pursuing an anthropology major and a Five College Certificate in Culture, Health and Sciences. Lauren Jones MAT'18 and Lily Eisermann MAT'15 are alumnae from the College's Master of Arts in Teaching program.
This is the third time the College has participated in the summit, which is hosted every three years by the University of the Free State in Bloemfontein. The group was there for three weeks, which allowed time for cultural excursions to Johannesburg and Cape Town. 
"This program creates global opportunities for our students, and for all of us to establish and maintain relationships with other universities, which is phenomenal," said Latrina Denson, associate dean of students, who accompanied the students and alumnae. "We've all become connected with students, faculty and staff from other colleges, abroad and in the U.S."
Learning to lead, both locally and globally
Key among the discussions at the conference was the role student leaders can take in addressing residual effects of the now-defunct apartheid system in South Africa, as well as global issues of racism and inclusion.
Through speakers, workshops and group and individual discussions, the participants gained a greater understanding of the social caste system, and were asked to connect that history with their own lives and experiences. Then they were asked to stand up globally, as leaders, as well as in their personal, academic and professional lives, and to bring that knowledge back to their colleges and universities. 
This is no small challenge, said Beverley Bell, who was previously the director of Mount Holyoke's Master of Arts in Teaching program and now directs the Secondary Teacher Education Program at the University of Massachusetts Amherst. A native of South Africa, Bell has accompanied the students and alumnae on all three College trips. 
"Through this summit, our students are given the extraordinary opportunity to lead in a small international venue," she said, "and each year, our students have risen to be a leader in their groups." 
The participants were chosen in part because of their focus on social justice, Denson noted, and each had already taken on significant leadership roles on campus. Hernandez is a cultural center student assistant at the Eliana Ortega Cultural Center, which serves as a locus for students who share a Latinx identity, and as a resource for those focusing on Latin American studies. The alumnae work with Bell to explore secondary education in South Africa, and how to incorporate those lessons into their curricula as teachers in the U.S. 
Roberts is a fellow and Belabbes a peer educator at the MoZone Peer Education Program, whose mission is to increase awareness of social justice, diversity, equity and inclusion issues on campus. They are both doing independent research this fall with the information and skills they learned at the conference, Roberts said, noting that MoZone itself is a product of the Global Leadership Summit: Courtney Brunson '16 and Carly Bidner '16 started the program after attending the 2015 summit. 
"I got a glimpse of what it's like to do this work in different contexts and different conflicts and issues — to learn tools and strategies," Roberts said. "I am excited to bring that knowledge and information back to Mount Holyoke." 
Human impact 
That knowledge and information was more significant than she had anticipated, Roberts said. For instance, she has a deeper sense of empathy for international students at Mount Holyoke. 
"The experience of being in another country, trying to navigate different cultural contexts and languages and communication styles from across the globe gave me an unexpected glimpse of what it might feel like to be an international student," she said. "Now I want to be more of an ally to international students." 
Roberts was also was unprepared for the emotional impact other people's stories would have on her, especially those from South Africa, who deal daily with the legacy of apartheid. 
Indeed, among the most defining experiences of the summit, she said, were the stories from South Africans about life in their country, including the still-entrenched difficulties of racism they live with and the fortitude and courage it takes to resist that system on an ongoing basis. It wasn't always easy to hear, she said. 
"During the trip, I hadn't allowed myself to feel the weight of the violence of apartheid and racism," Roberts said. "But I connected with people on a very human level about what they've experienced, and those were poignant, very powerful moments for me."
 Summits await. Visit.