Meet the class of 2021: Guneet Moihdeen
Meet the class of 2021: Guneet Moihdeen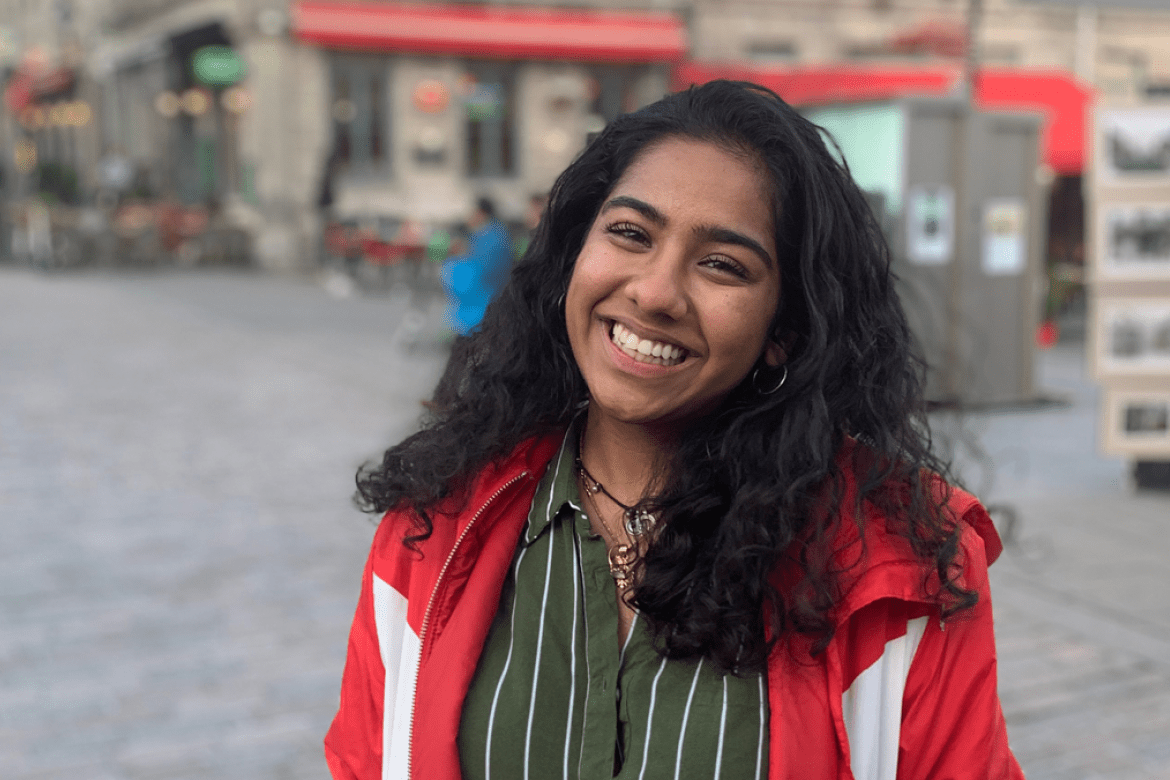 "The results I found were obvious to me, but I didn't know that not everyone had access to these skills. I saw my Mount Holyoke education in practice."
As a Posse student, Guneet Moihdeen was looking for three things in a college: South Asian studies, a strong psychology department and an active community. Mount Holyoke checked every box. 
"I am passionate about mental health," she says. "Having my own journey and navigating that, as a first-generation college student, a first-generation South Asian American, I knew that I wanted a career in which I could work with people and engage with my community and learn about my history. What I didn't realize was how much I would be able to experiment at Mount Holyoke."
Experiment, she did. Her Psychology of Racism class with Jen Matos, assistant professor, showed Moihdeen there is more to psychology than the study of behavior. 
"I like looking at systems and institutions and I didn't realize that social justice was also a big part of psychology and that it could be a pathway," she says.
She discovered she was good at math when she took statistics. That inspired her to study computer science, which led to a Nexus concentration in data science. 
Moihdeen was able to use her growing knowledge when she interned with the U.S. representative in her district, Federica Wilson. Forget making photocopies: Moihdeen worked on the office newsletter and helped draft congressional bills. 
"I made data models and predictors for how COVID would affect Florida, and the correlation between red states and mask policies and COVID cases," she says. "The results I found were obvious to me, but I didn't know that not everyone had access to these skills. That's when I realized that I had learned things. I saw my Mount Holyoke education in practice." 
Moihdeen first met one of her advisors, Abhilash Medhi, assistant professor of history, when she took a course with him through the Five College Consortium and he was teaching at Smith College. Then she became part of the hiring committee for the South Asian studies program. 
"It surprised me that as a sophomore that was something I would be able to do," she says. "I've taken three or four classes with him and he's definitely tired of me." 
Moihdeen approached her other advisor, Danielle Godon-Decoteau when she learned that the visiting lecturer researches the mental health of marginalized communities. Moihdeen now works in Godon-Decoteau's lab. 
The vast Mount Holyoke network has been there for Moihdeen. When she was thinking about how to incorporate her educational experience and passion for ethnic studies into government and policy — "I wanted to see what me in real life would look like, versus me in the classroom" — an older student encouraged her to approach the Asian American Advisory Board in Dade county, Florida, and Moihdeen got the internship.  
She used her Lynk internship funding to work with the Sikh American Legal Defense and Education Fund. "Never in my wildest dreams could I imagine being able to work with a Sikh-American organization I looked up to for support while growing up. And I also got to work with a congresswoman!" 
She also gives back to the community. As a senior admissions ambassador — a fellow Posse student from an earlier cohort urged her to apply — Moihdeen interviews students looking to talk to another student. 
"It really does feel like everything has come full circle, considering I had no idea how to apply to college in the first place," she says. "I am capable of navigating different spaces. I can pursue things that I've never tried before — because I've done it here. Having a space like Mount Holyoke where you can learn and grow and build off of your community is my biggest takeaway." 
Moihdeen plans to attend graduate school for social work or public health.
The power of having a Posse
Guneet Moihdeen was a member of the Posse program in high school when she learned about Mount Holyoke. The College offered everything she was looking for and she applied and was matched. But it didn't become real until she actually got to campus that spring. 
"I didn't realize how excited I was — or what Mount Holyoke was — until I visited during Admitted Students Weekend in April," Moihdeen says. "I came with my Posse cohort. And that's when I was like, Oh, I think I can do this. I think I'm going to like it here. I think I can see myself here. It was just really exciting." 
The Posse Foundation is a national organization that identifies and recruits diverse students with academic and leadership potential who risk being overlooked. Students are recruited in high school and admitted in a group — or posse — of about 10 to one of the foundation's partner institutions. Mount Holyoke has partnered with Posse since 2010 and provides a full-tuition scholarship to each Posse student.
Once on campus, Posse cohorts are assigned a Posse mentor, typically a faculty or staff member, in addition to their academic advisors. James Harold, professor of philosophy and chair of the department, was the mentor to the Posse class of 2021.
"This was the first professor I actually engaged with, the first faculty member I got to meet," Moihdeen says. "I was really uneasy. I was like, what does he know about how he can support me? But I realized that he really cared when he asked me how I was doing or about my day." 
Those little interactions meant a lot to her, she says. "I never took a philosophy class. And when I expressed my interest in South Asian studies, the first thing he said was, 'I know someone in the department' and he introduced me to the professor he knew. And that's when I realized that this is someone in my corner." 
"A Five College Passport" 
One of the many benefits about attending college in the Pioneer Valley is the vast resources of the Five College Consortium — Smith, Amherst and Hampshire colleges, and the University of Massachusetts Amherst. All are within a short bus ride away. Just ask Guneet Moihdeen. 
"My friends joke that I have a Five College passport," Moihdeen says. "I have taken classes in person on every campus. And after COVID started, I took more classes. I wanted to make sure I was exploring my interests outside of Mount Holyoke. I need to be able to travel and explore, knowing that I have my home. I said to myself, 'I have this space that's great, where I am welcome. Now let me explore other spaces.'"
Her first class was a class at Amherst College on early medieval Moghal India. She knew another Mount Holyoke student in the class, and they met a third. The three would get pizza after class, study together and explore Amherst College. 
Moihdeen was on her own for her next Five College class, which was at Smith, in Northampton, neither of which she was familiar with. But she made friends there too. Eventually she made friends on all the campuses and her involvement deepened. 
"Now I'm not just academically involved," she says. "I'm also very involved with the South Asian students organizations on campus and with Raunak Bhangra, which is a folk dance team. I like learning what students do for fun, what their events look like. It's really important to me to make sure that wherever I go I build a community."  
Her Five College experience also taught her to look beyond her comfort zone of Mount Holyoke, Moihdeen says. "I realized that there were gaps in my knowledge of South Asia and interests I wanted to explore. I was able to fill the gaps and navigate. After my first semester, I knew that I wanted more out of my experience and that I could always be at Mount Holyoke, but that when I got the chance to explore, I wanted to take it."