From passion to action, locally and globally
From passion to action, locally and globally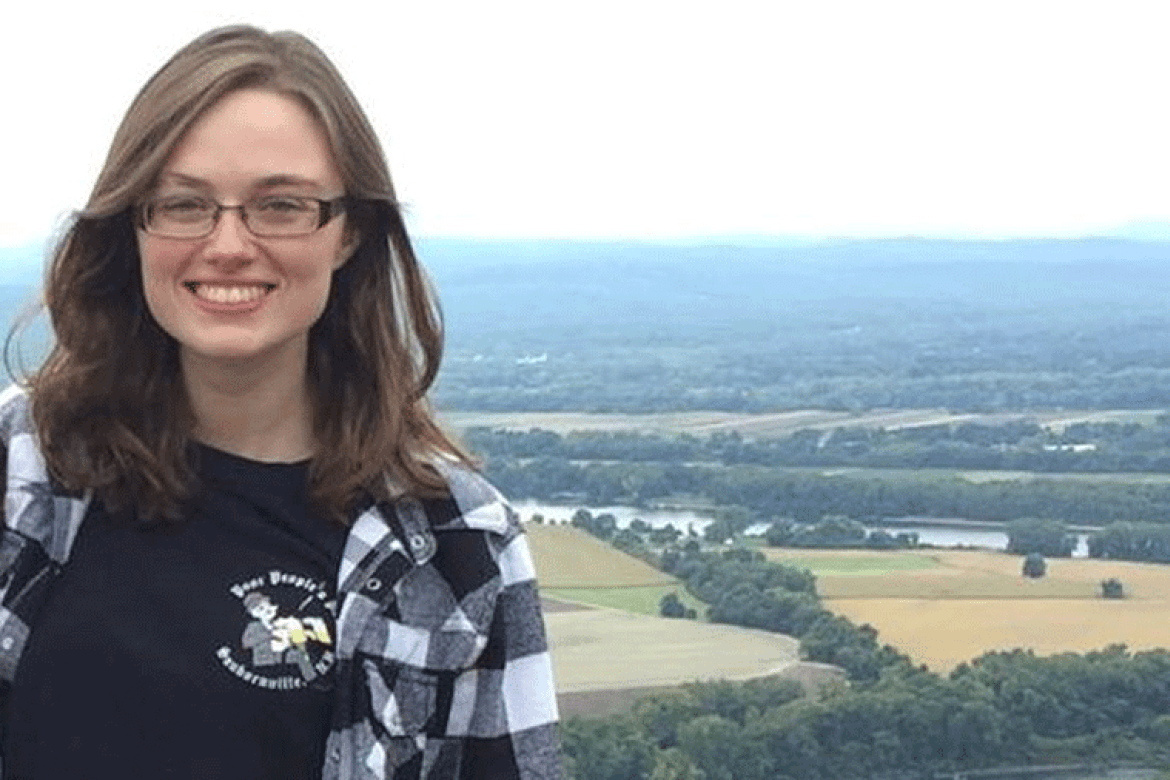 Shannon Seigal '19 has combined her interests in environmental sustainability and social justice and taken advantage of every opportunity.
In two and a half years at Mount Holyoke College, Shannon Seigal '19 has served as an Eco-Rep and sustainability fellow for the Miller Worley Center for the Environment, represented the student body on the Sustainability Task Force and participated in the Climate Justice Coalition student organization.
In other words, there aren't many facets of campus sustainability that Seigal hasn't experienced. And in turn, her contributions have had a significant impact on the College community.
In high school, an engaging advanced placement environmental science teacher sparked Seigal's initial interest. She appreciated the opportunity to combine her interests in environmental sustainability and social justice and decided to study the subject in depth in college.
She came to Mount Holyoke certain that she would pursue an environmental studies major with a focus on the environment and development.
However, Seigal could not have anticipated all the opportunities to pursue her passion for sustainability outside of the classroom that she'd soon discover. She has embraced everything Mount Holyoke has offered.
"Shannon's pathway through coursework, study abroad, internships and student groups illustrates how a Mount Holyoke student can put together a unique set of experiences that prepare them to be a global changemaker," said Catherine Corson, Leslie and Sarah Miller Director of the Miller Worley Center for the Environment. "Wherever she ultimately lands, I am confident that Shannon will change the world for the better. She already has."
For Seigal, it began the first semester of her first year. Looking for work, she saw an ad inviting students to join the Eco-Rep team. Eco-Reps are the College's student sustainability educators who promote recycling, saving energy and reducing food waste on campus. During her two years as an Eco-Rep, she gained a deeper grasp of environmental practices and policies on college campuses.
Seigal's experience inspired her to contribute to campus sustainability at an institutional level. She became a student representative on the Sustainability Task Force, where she worked with faculty and administrators across departments to research and assess a wide array of sustainability initiatives.
Nancy Apple, associate director of sustainability for the Miller Worley center and co-chair of the task force, praised Seigal's work in the areas of energy use and transportation.
"Shannon provided an invaluable student perspective on existing conditions and the goals of the student body," Apple said. "She organized several opportunities for student input into the process and dove in and researched questions that the group raised."
Corson, who also co-chairs the task force, was so impressed by Seigal's dedication that she asked her to join the Miller Worley center as an intern during the academic year.
During this internship, Seigal took the lead on updating Mount Holyoke's campus greenhouse gas inventory.
"I was able to research and make recommendations over the summer about how the College could track greenhouse gas emissions more effectively, and now that's how it's being done," she said. "It was inspiring to see that so many departments were represented, and that the entire College is eager to implement positive changes. It's essential that everyone is involved."
Seigal also took advantage of the Lynk initiative, Mount Holyoke's commitment to fund research or an internship for every student. Seigal interned at CitySprouts in Cambridge, Massachusetts, over the summer before her junior year. She taught underrepresented Boston-area youth about urban agriculture, incorporating STEM and food-justice concepts into her lessons.
Taking her interests from local to global, Seigal is spending the spring semester at the Monteverde Institute with the College's McCulloch Center for Global Initiative's program in globalization, development and the environment, located in Costa Rica.
There, she will apply the hands-on sustainability research experience she's gained at Mount Holyoke to the complex challenges of globalization and development. She also hopes to take advantage of the College's new Global/Local Initiative, which supports student learning and community engagement across borders and is offered by the McCulloch Center and the Community-Based Learning program.
Her combined experiences, including education, activism and exposure to high-level administrative policymaking has inspired Seigal to consider careers in which she can promote sustainability at an institutional level.
"I've definitely seen a growth and shift in campus awareness of sustainability since my first year on campus," Seigal said. "I learned that if you want change to happen, you need to find a way to get involved. Then, do the work."
Get involved, do the work. Visit
Written By

Mikaela Murphy-Boyle
Published